GOES-2 Launch Anniversary; GOES Timelines
With the help of NASA, private industry and others, NOAA's GOES-2 (as GOES-B) was launched on June 16, 1977. Similar to SMS-1/2 and GOES-1/3, there were 2 spectral bands: one visible and one longwave infrared.
A still image with a map overlay is also available to provide geo-referencing for the images in the above animation. Or a similar loop is also available with the map overlay The images in the loop (mp4 | animated gif) were taken just one year after GOES-B was launched.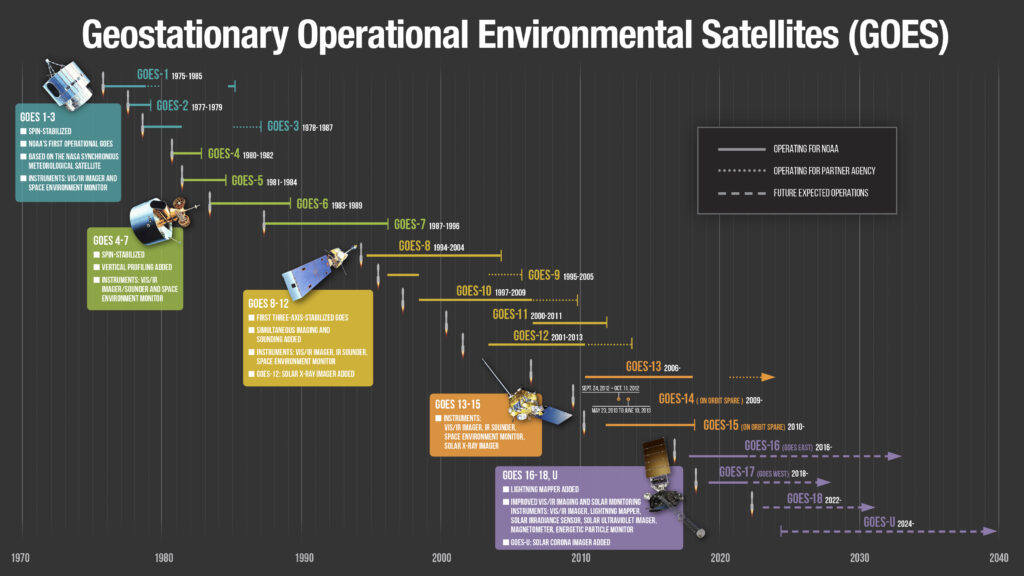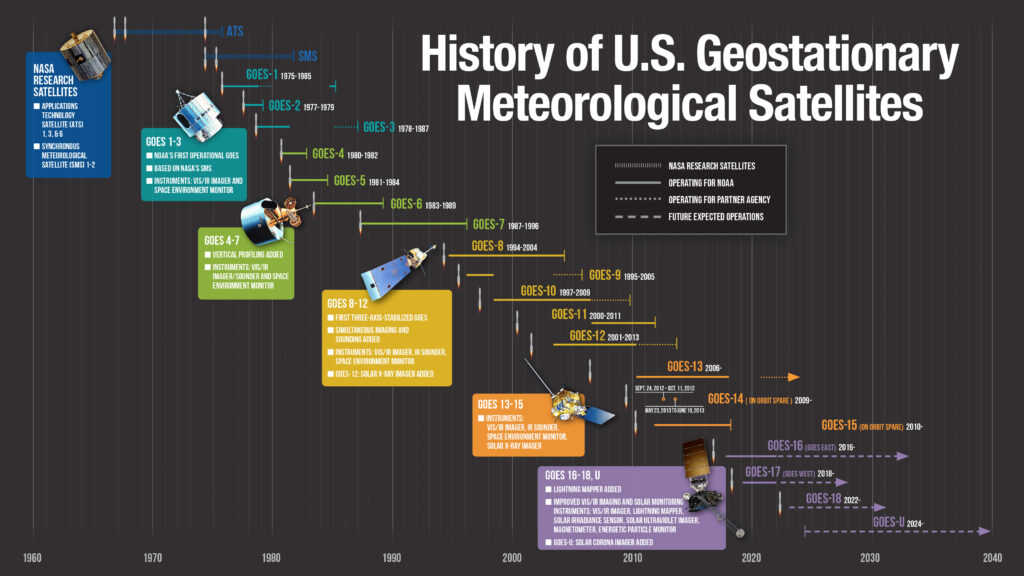 The timelines show the periods when the satellites were operational. Yet, there were other times when they might have been operating. For example, when an on-orbit spacecraft comes out of storage once a year, often in August, for a routine check-out of several weeks. Another example was GOES-14, as it provided over 5 months of 1 min data (SRSOR) data to better prepare for the meso-scale sectors on the ABI. These campaigns were in 2012, 2013, 2014, 2015 and 2016. Some of these times were:
| | |
| --- | --- |
| Start Date | End Date |
| 16-Aug-2012 | 31-Oct-2012 |
| 13-Aug-2013 | 28-Aug-2013 |
| 08-May-2014 | 25-May-2014 |
| 14-Aug-2014 | 28-Aug-2014 |
| 18-May-2015 | 11-Jun-2015 |
| 10-Aug-2015 | 28-Aug-2015 |
| 01-Feb-2016 | 25-Feb-2016 |
| 18-Apr-2016 | 15-May-2016 |
| 09-Aug-2016 | 29-Aug-2016 |
| 01-Aug-2017 | 11-Aug-2017 |
| 08-Aug-2018 | 17-Aug-2018 |
| 31-Jul-2019 | 13-Aug-2019 |
| 11-Aug-2020 | 21-Aug-2020 |
| 11-Aug-2021 | 19-Aug-2021 |
GOES-14 times (as start/end pairs) of being operated, though not operational. All dates are approximate.
In addition, GOES-15 was operated several times to supplement GOES-17 operations:
| | |
| --- | --- |
| Start Date | End Date |
| 20-May-2018 | 09-March-2020 |
| 04-Aug-2020 | 04-Sep-2020 |
| 04-Feb-2021 | 19-Feb-2021 |
| 02-Aug-2021 | 05-Nov-2021 |
| 17-Feb-2022 | 18-April-2022 |
GOES-15 times (as start/end pairs) of being operated, though not operational. All dates are approximate.
The second timeline above includes not only the U.S. GOES imagers, but also their precursors: ATS-1, 3 (including the Spin Scan Cloud Cameras) and 6 (with the 2-channel GVHRR; including an infrared band) and SMS-1/2. The GOES-R Program Office also has a more simple GOES timeline.
UW/SSEC has an interactive timeline (opens in new tab) that covers more satellites. The SSEC library (Schwerdtfeger) also has more information on the Spin-Scan Cloud Cameras on ATS-1/3.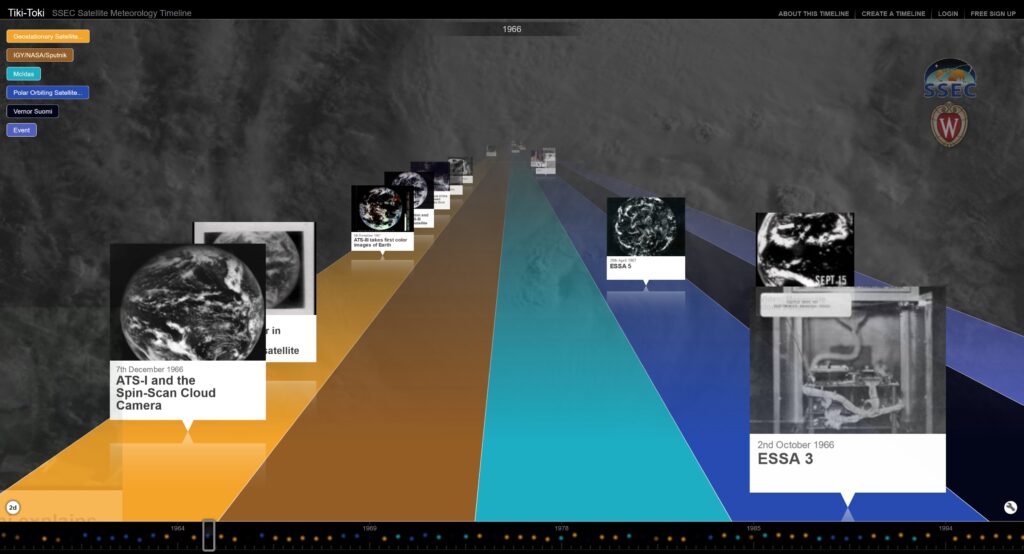 The above image shows a color-coded transparency for cold clouds over the gray-scale visible image.
After GOES-U, NOAA is planning on the next generation U.S. geostationary imager as part of the Geostationary Extended Observations (GeoXO) program.
H/T
Thanks to the many who made the GOES (and the precursors) possible. McIDAS-X software was used in generating these satellite images. The data (and many dates) was accessed by the UW/SSEC Data Services. More about GOES-16 and GOES-17 and GOES-18 (preliminary, non-operational).