ADT
|
SATCON
), reaching Category 5 Super Typhoon intensity. Himawari-8 rapid-scan (2.5 minute interval) "Clean" Infrared Window (10.4 µm) images
(above)
showed that Jebi began to exhibit an annular appearance with a nearly symmetric eyewall as it moved through the Northern Mariana Islands (north of Guam). The eye passed just south of the uninhabited volcanic island of Pagan around 16 UTC on 30 August.
Himawari-8 "Red" Visible images (below) revealed mesovortices within the eye of Jebi.
Toggles between VIIRS Day/Night Band (0.7 µm) and Infrared Window (11.45 µm) images from NOAA-20 and Suomi NPP
(below)
showed more detailed views of (1) the well defined eye, (2) surface mesovortices within the eye, and (3) storm-top gravity waves that were propagating away from the eyewall region. With the Moon in the Waning Gibbous phase (at 77% of Full), ample illumination was available to provide detailed "visible images at night" using the VIIRS DNB. Convective Rain Rate and Surface Rain Rate products derived from GCOM-W1 AMSR2 data
(below)
showed the heavy rainfall occurring within the eyewall region and a primary feeder band to the west. VIIRS and AMSR2 images courtesy of William Straka, CIMSS. As Jebi tracked west-northwestward across the West Pacific, products from the
CIMSS Tropical Cyclones
site showed that it had been moving over waters having high values of
Sea Surface Temperature
and
Ocean Heat Content
(below)
. A 48-hour animation of the
MIMIC-TC
product
(below)
showed the evolution of the Jebi from 29-31 August. The storm was completing an eyewall replacement cycle near the end of the animation, with the eye becoming distinctly larger.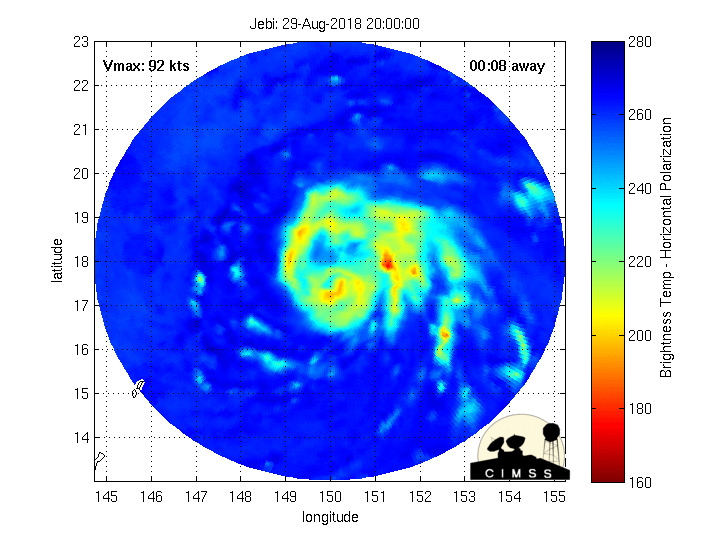 In a comparison of DMSP-16 SSMIS Microwave (85 GHz) and Himawari-8 Infrared Window (10.4 µm) images at 1900 UTC (below), the Microwave data helped to better visualize the structure of the large eyewall in addition to a long, narrow feeder band wrapping inward toward the eye.

West Pacific Typhoon Jebi underwent a period of very rapid intensification on 30 August 2018 (