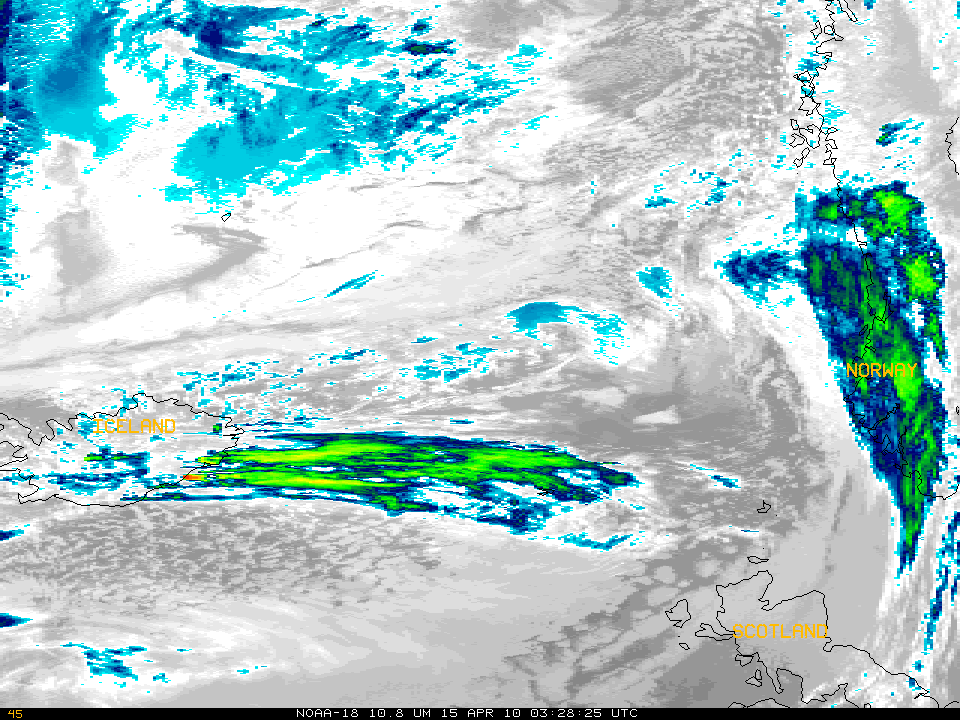 Eyjafjallajokull, a now-active volcano in southern Iceland that erupted in late March, has recently erupted again, ejecting significant volcanic ash into the atmosphere. Iceland is at high enough latitudes (between 63 and 66.5 degrees north Latitude) that views from geostationary satellites are not as helpful in diagnosing evolving events such as ash clouds as they would be for lower-latitude events. Meteorologists instead rely on polar orbiters to observe the atmosphere surrounding the eruption.
For example, A Terra overpass yesterday allowed MODIS to image the eruption, shown as a true color composite below.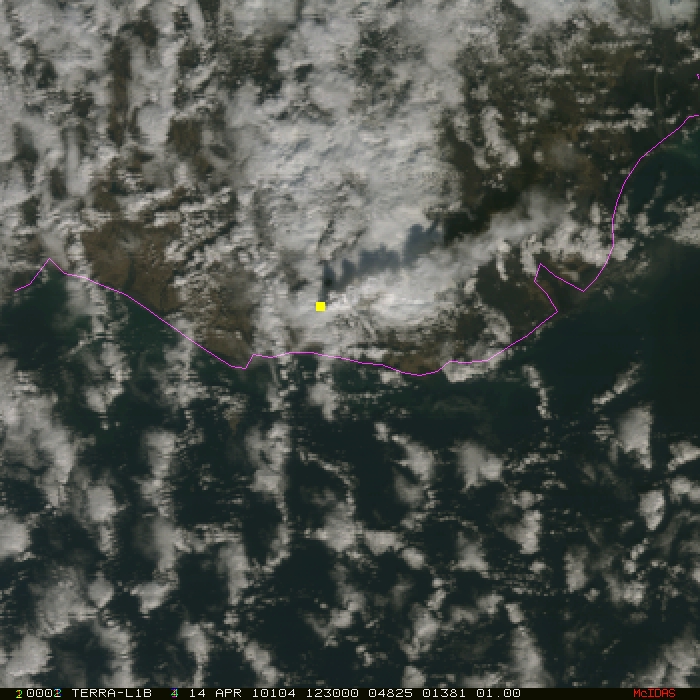 Ash from volcanoes is a significant aviation hazard if it is drawn into jet turbines. For that reason, all flights at London's Heathrow (and at other airports throughout northern Europe) have been grounded as of mid-afternoon London time on 15 April. The volcanic ash cloud is visible from satellite. The imagery above shows 10.8- and 12.0-micron imagery from a NOAA-18 pass at 0342 UTC on 15 April. The volcanic plume is visible as colder cloud tops arcing eastward from Iceland towards northern Scotland. The color enhancement in the loop shows that the 12.0-micron image has colder brightness temperatures than the 10.8-micron image. For example, the coldest point (red pixels) just off the coast of Iceland have 12.0-micron brightness temperatures of 212.6 K; 10.8-micron temperatures in that region are closer to 214.5 K. This difference in temperature arises because volcanic ash has a lower emissivity at 12.0 microns than at 10.8 microns. Thus, proportionally less radiation compared to a blackbody is being emitted at 12.0 microns than at 10.8 microns. When that emitted radiation is detected by the satellite, the proportionally smaller values at 12.0 microns yield cooler blackbody temperatures.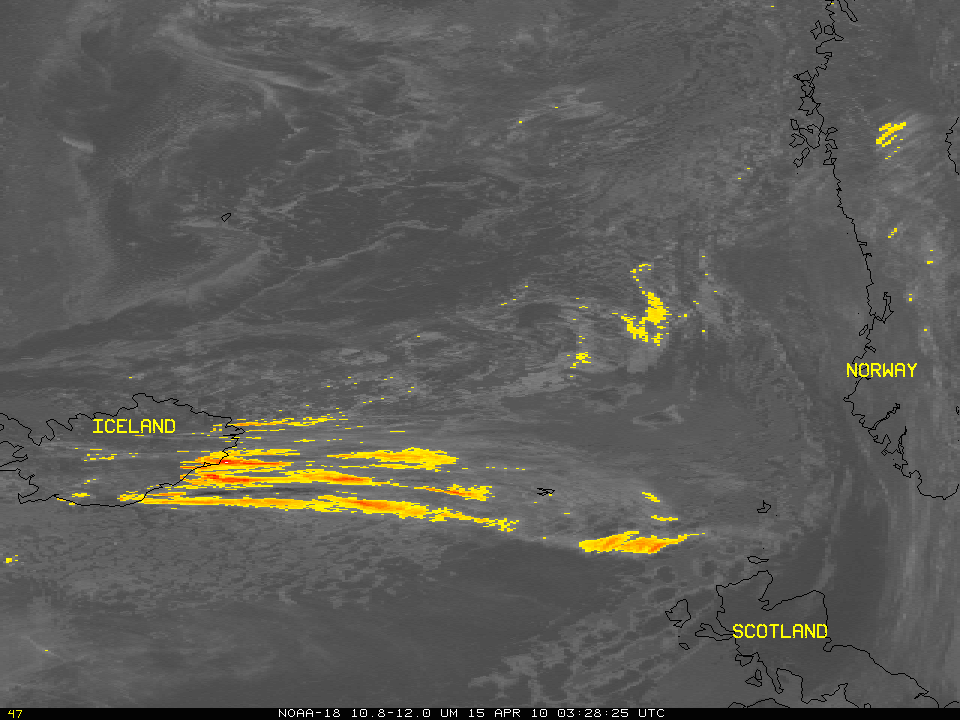 Indeed, a difference between the two channels can yield a rough approximation of the ash cloud outline, and that is shown above. Colored pixels here have 10.8-micron brightness temperatures at least 2 K warmer than the 12.0-micron brightness temperature. Maximum temperature differences exceed 10 K.
15-16 April Update: The SEVIRI instrument on Meteosat-9, with more spectral resolution than AVHRR, can yield more information about the ash cloud, including total mass, maximum height, and effective radius. These derived products (courtesy of Mike Pavolonis, NOAA/NESDIS/STAR/CoRP/ASPB) are shown for 15 April (above; also available as a QuickTime movie), and for 16 April (below; also available as a QuickTime movie).
18 April Update: below are individual quantitative volcanic ash product images that show characteristics of the volcanic ash features at various times and locations during the 16-18 April period.
=====
=====
=====
=====
=====
A McIDAS image of a 500-meter resolution Aqua MODIS Red/Green/Blue (RGB) composite using channels 01/04/03 (below) shows a beautiful view of the volcanic ash plume streaming southward on 17 April 2010. Annotated on the image are the tiny village of Skógar, as well as the Mýrdalsjökull Glacier. As an aside, it is interesting to note that a great deal of lightning has been observed associated with the volcanic ash cloud.