Eastern Pacific: Tropical Storms Boris and Cristina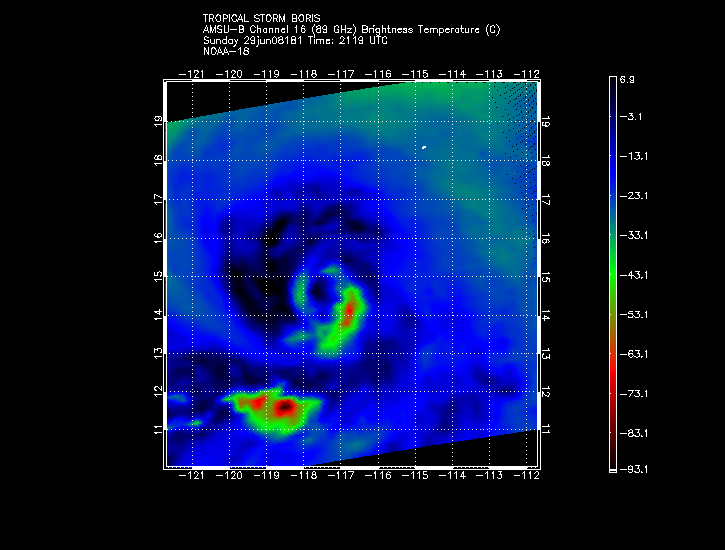 While the Atlantic Ocean tropical cyclone season has been relatively quiet thus far, the Eastern Pacific Ocean was showing some signs of activity in late June 2008. Products from the CIMSS Tropical Cyclones site such as AMSU brightness temperature (above) and Satellite Consensus (SATCON) tropical cyclone intensity estimates (below) were useful to forecasters at the National Hurricane Center, as noted in their Tropical Storm Boris discussion from 29 June 2008:
TROPICAL STORM BORIS DISCUSSION NUMBER 13
NWS TPC/NATIONAL HURRICANE CENTER MIAMI FL

800 PM PDT SUN JUN 29 2008

THE RAGGED EYE VISIBLE EARLIER HAS BEEN OBSCURED BY NEW CONVECTION NEAR THE CENTER…ALTHOUGH EXCELLENT BANDING ALOFT IS APPARENT IN AN AMSU PASS AT 0045 UTC. THE ADVISORY INTENSITY OF 60 KT IS A BLEND OF SUBJECTIVE DVORAK ESTIMATES OF 55 KT FROM TAFB AND SAB…A CIMSS ADT OF 65 KT…AND A CIMSS AMSU ESTIMATE OF 66 KT.
Not far to the west of Boris, Tropical Storm Cristina was also present over the Eastern Pacific Ocean. ASCAT satellite wind vectors were helpful in verifying the intensity of Cristina, as seen in on GOES-11 visible and IR imagery with ASCAT data superimposed (below).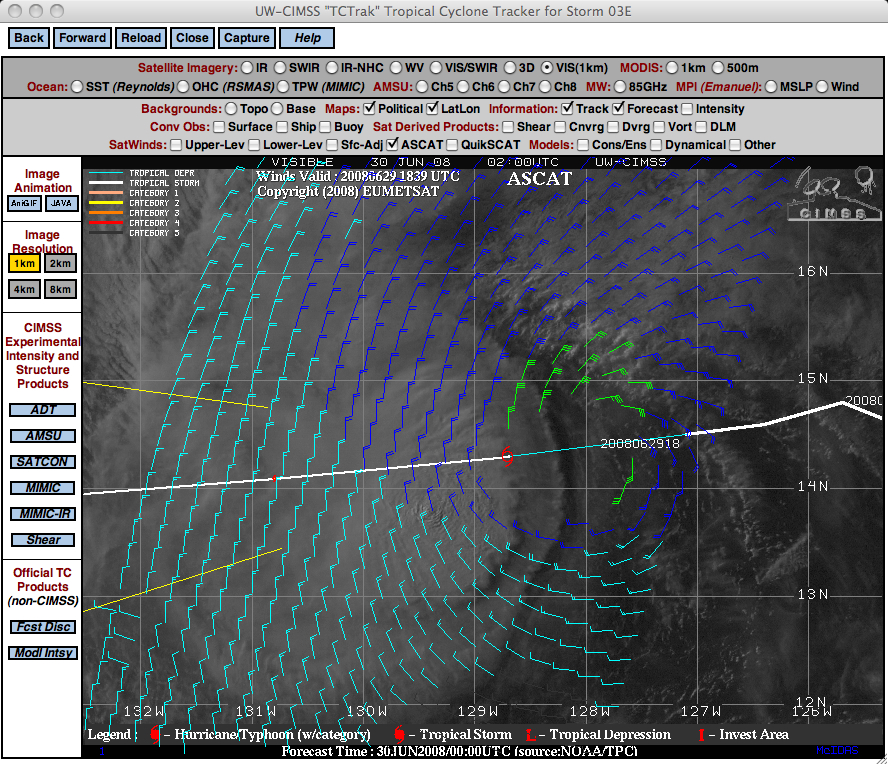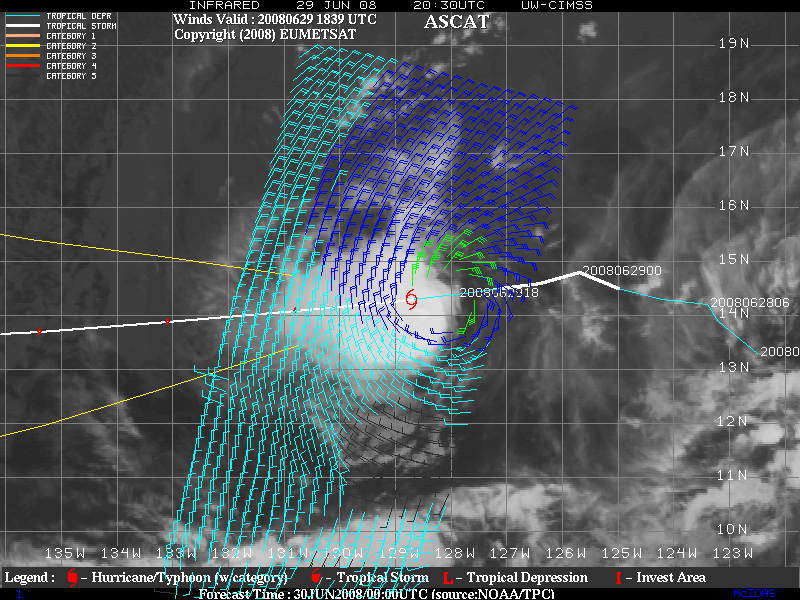 A 30 June 2008 National Hurricane Center discussion for Tropical Storm Cristina also noted
TROPICAL STORM CRISTINA DISCUSSION NUMBER 11
NWS TPC/NATIONAL HURRICANE CENTER MIAMI FL

200 AM PDT MON JUN 30 2008

THE CLOUD PATTERN ASSOCIATED WITH CRISTINA HAS BECOME LESS ORGANIZED OVER THE PAST SEVERAL HOURS. THERE IS A RATHER SHARP EDGE TO THE HIGH CLOUD MASS OVER THE EASTERN SIDE OF THE SYSTEM…INDICATIVE OF EASTERLY VERTICAL SHEAR. THIS SHEAR IS AT LEAST PARTIALLY DUE TO THE UPPER-LEVEL OUTFLOW FROM TROPICAL STORM BORIS LOCATED NOT FAR TO CRISTINA'S EAST.
This sharp eastern cloud edge was quite evident on GOES-11 IR imagery (below), which also displays the CIMSS wind shear product.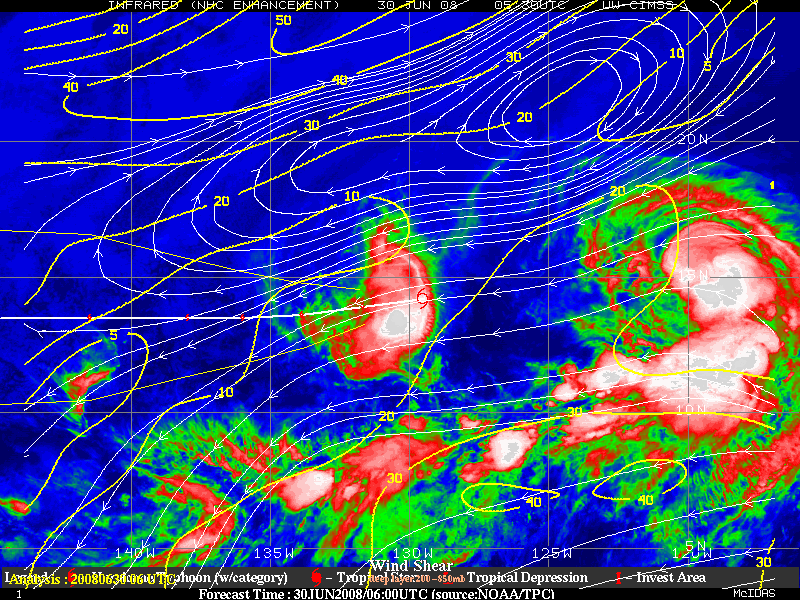 One factor influencing the lack of organized tropical storm activity in the Atlantic so far this season may have been the persistent Saharan Air Layer and airborne African dust that was frequently observed over the tropical Atlantic basin during the month of June 2008 — note the presence of significantly lower MIMIC Total Precipitable Water (TPW) values during the 27-30 June 2008 period (below) within the 10-20º N latitude band over the Atlantic Ocean, compared to the much higher TPW values over tropical East Pacific where Tropical Storms Boris and Cristina were seen. One impact of such a high amount of African dust may be the cooler than normal Sea Surface Temperatures across the tropical Atlantic, which would be a negative factor for tropical cyclone formation.