Tropical Storm Alex in the Bay of Campeche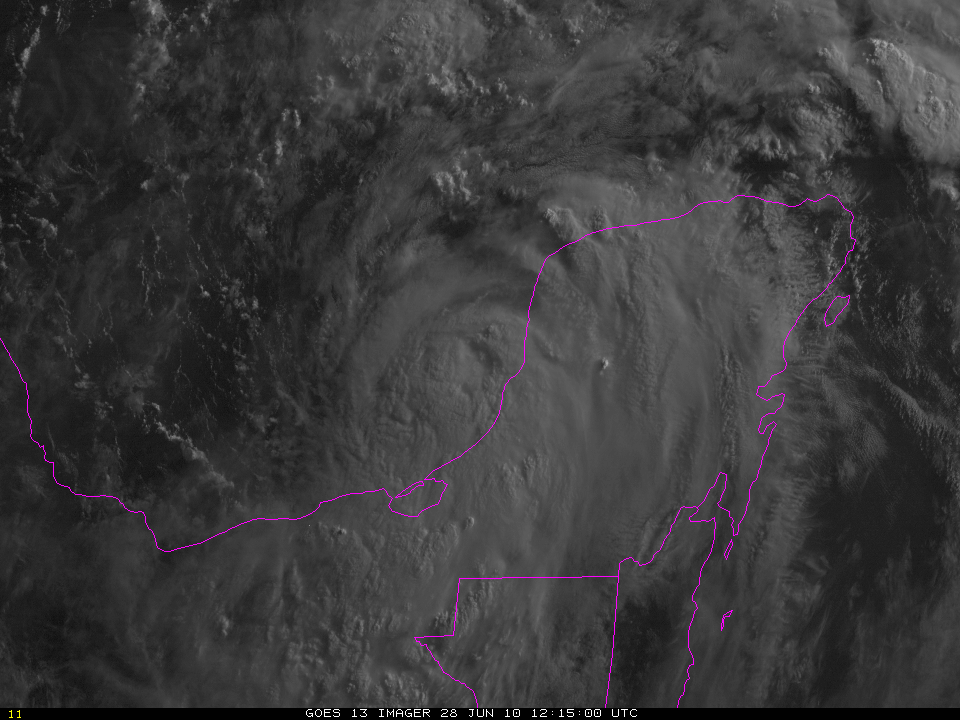 Tropical Storm Alex, which formed over the northwestern Caribbean Sea out of a westward-moving tropical wave on Friday and Saturday, emerged overnight into the Bay of Campeche from the Yucatan Peninsula. Since emerging from that landmass as a tropical depression (signifying sustained winds weaker than 35 knots), it has strengthened back to Tropical Storm status. Current forecasts place it as a hurricane — possibly major — near the northern Mexico Gulf Coast later this week.
The large-scale environment is favorable for strengthening. For example, the MIMIC Total Precipitable Water loop (here) shows an environment that is rich in moisture over the Gulf of Mexico. (Note also the apparent Fujiwara interaction between Alex and Pacific Tropical Depression Darby, as they start to circulate around a common center.) The general west-northwestward drift of the feature is also readily apparent, as are the tropical systems Celia and Darby in the Pacific Ocean. The projected path of the storm takes it over warm sea surface temperatures with abundant Oceanic Heat Content. In addition, the environment is one of low shear that is decreasing with time. (Images of these products are available at the CIMSS Tropical Cyclone Web page.)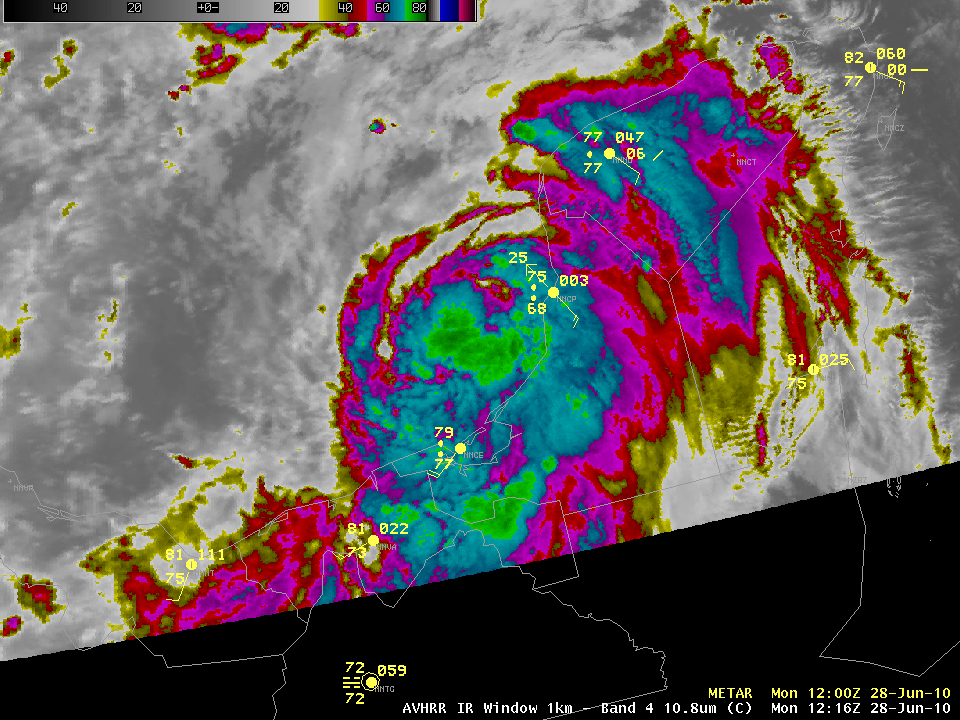 10.8-micron imagery from the AVHRR on NOAA-15 on the morning of 28 June (above) shows Brightness temperatures around -80 C in the strong convection around the center of Alex.
Update: MODIS 11.0 µm IR imagery (above) revealed cloud top IR brightness temperatures as cold as -92º C (darkest purple color enhancement) associated with some of the intense convection  around Alex at 18:53 UTC. These areas of very cold cloud top were identified as "overshooting tops" (overshooting the tropopause) by the IR / Water vapor difference product (reference: "Tropical Cyclone Convection and Intensity Analysis Using Differenced Infrared and Water Vapor Imagery", Olander and Velden, 2009) from the CIMSS Tropical Cyclones site (below).