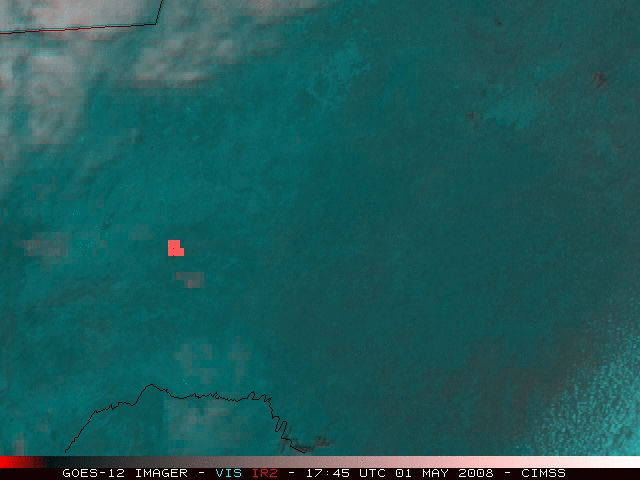 GOES-12 RGB composite images (above, using the visible and 3.9 µm shortwave IR channels) revealed a cluster of "hot spots" (red-enhanced pixels) and a large smoke plume drifting east/northeastward from a large grass fire located about 30 miles southeast of Fort Stockton, Texas on 01 May 2008. This fire — known as the Huckabee Fire — started on 30 April (due to a downed power line), and eventually ended up burning over 96,000 acres. This large and very hot fire saturated the 3.9 µm shortwave IR detectors on GOES-12, with the imagery indicating a maximum IR brightness temperature of 337.4º K (64.3º C or 147.7º F).
AWIPS images of the GOES-12 3.9 µm shortwave IR channel (below) showed that the Huckabee fire continued to burn into the morning hours of 02 May, as a cold front moved southward across the region — the cooler air behind the cold frontal boundary was evident as lighter shades of gray surging southward, while warmer, more humid air appeared as darker shades of gray moving slowly northward across eastern Texas into Oklahoma (in advance of the approaching cold front).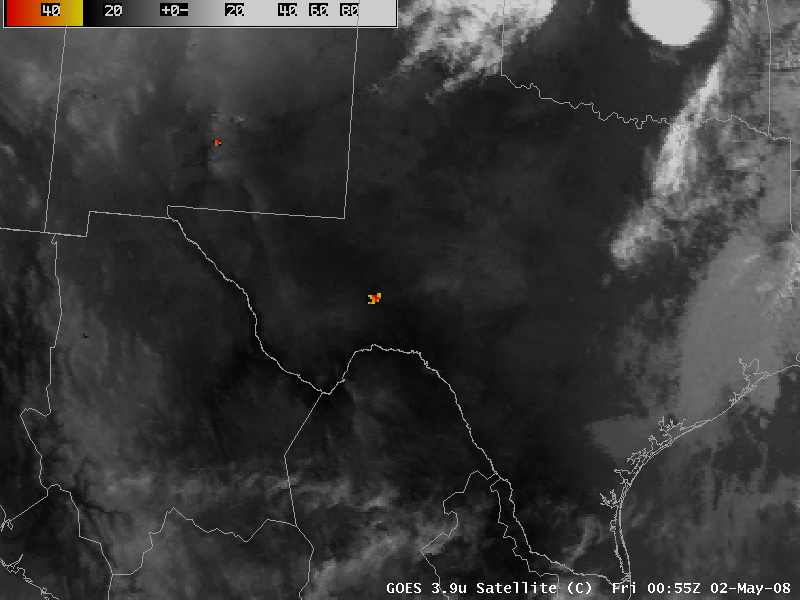 An AWIPS 4-panel comparison of MODIS and GOES-12 "shortwave IR" and "IR window" channel data (below) showed the cluster of hot pixels around 09 UTC (4 am local time) on 02 May. This large fire was so hot that a "hot spot" was even apparent on the IR window channel images — surprisingly, the brightness temperature of the hot spot on the GOES-12 IR window image was higher (as indicated by the single yellow-enhanced pixel in the lower right panel) than on the corresponding MODIS IR window image (the cluster of black pixels in the upper right panel).