2022 Satellite Highlights via Polar-Orbiting Imagery
This post features 2022 highlights from a polar-orbiting perspective, with a focus on U.S. scenes, most acquired by the Visible Infrared Imaging Radiometer Suite (VIIRS) flying on the Suomi-NPP and NOAA-20 satellites. Also in 2022: NOAA's Joint Polar Satellite System (JPSS) launched the JPSS-2 satellite, renamed NOAA-21. First light imagery from this exciting fleet addition is featured in November.
The top two images from January capture mesovortices on Lake Michigan, with False Color helping reveal snow cover and lake ice.
But the big global event in January was the Hunga-Tonga Volcano eruption in the South Pacific, also viewed by VIIRS.
Scroll down for additional satellite imagery from each month in 2022 …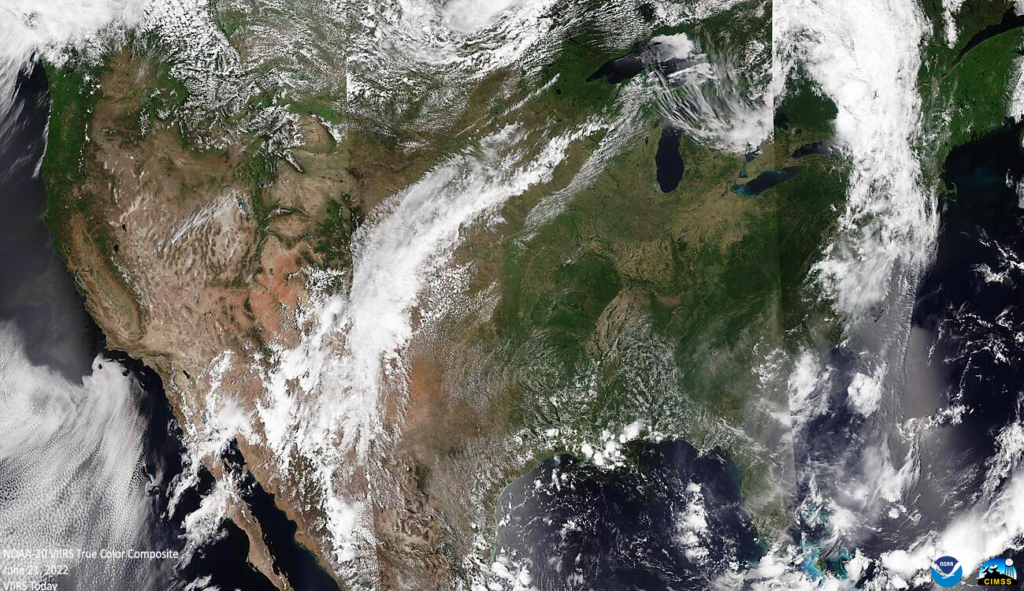 The JPSS-2 satellite launched from from California's Vandenberg Space Force Base on November 10, 2022, just before 2am Pacific time. Once in orbit it was renamed NOAA-21, the third in a series of advanced polar-orbiting satellites. Data was being received on Earth less than 2 weeks later!
Meanwhile Mauna Loa erupted on the Big Island of Hawaii for the first time in 38 years on November 27th 2022. VIIRS provided regular insights into the extended volcanic event which lasted until December 13th.
December wrapped up the year with an Arctic Blast in the east and an Atmospheric River aimed at the west coast. Polar-orbiting satellites tracked both events.
This collection is merely a sampling of polar-orbiting satellite applications. Tune in to future blog posts and CIMSS social media for additional imagery from the JPSS fleet in 2023, including more NOAA-21 imagery!
And, be sure to check out our 2022 review from a geostationary perspective, and NOAA's Top Satellite Images from 2022.