We are down for @RELAMPAGO2018, but #ARMCACTI just captured dual frequency radar observations of above anvil cirrus plume associated with an overshooting top @krisbedka @AtmoScientist @murillomojo pic.twitter.com/lC3GOPWCMu

— Steve Nesbitt (@70_dbz) November 3, 2018
An Above-Anvil Cirrus Plume (AACP) was observed over northern Argentina on 03 November 2018 during the RELAMPAGO-CACTI field experiment — radar indicated that the plume was 2-3 km above the top of the main thunderstorm anvil. A comparison of GOES-16 (GOES-East) "Red" Visible (0.64 µm), Near-Infrared "Snow/Ice" (1.61 µm) and "Clean" Infrared Window (10.3 µm) images (below) showed that the plume exhibited a colder appearance compared to the underlying anvil (which is explained by the temperature profile from 12 UTC Cordoba rawinsonde data). GOES-16 was actually scanning the AACP at 14:38:41 UTC — very close to the time of the radar image. The plume-producing thunderstorm was located south of Cordoba (identifier SACO).
Animations of GOES-16 Visible vs Snow/Ice and Visible vs Infrared are shown below. The southern storm also produced a smaller AACP at
1445 UTC
. Views of the convection across that region were provided by Terra MODIS (1457 UTC), Aqua MODIS (1736 UTC), Suomi NPP VIIRS (1742 UTC) and NOAA-20 VIIRS (1832 UTC) True Color Red-Green-Blue (RGB) images from
RealEarth
(below)
.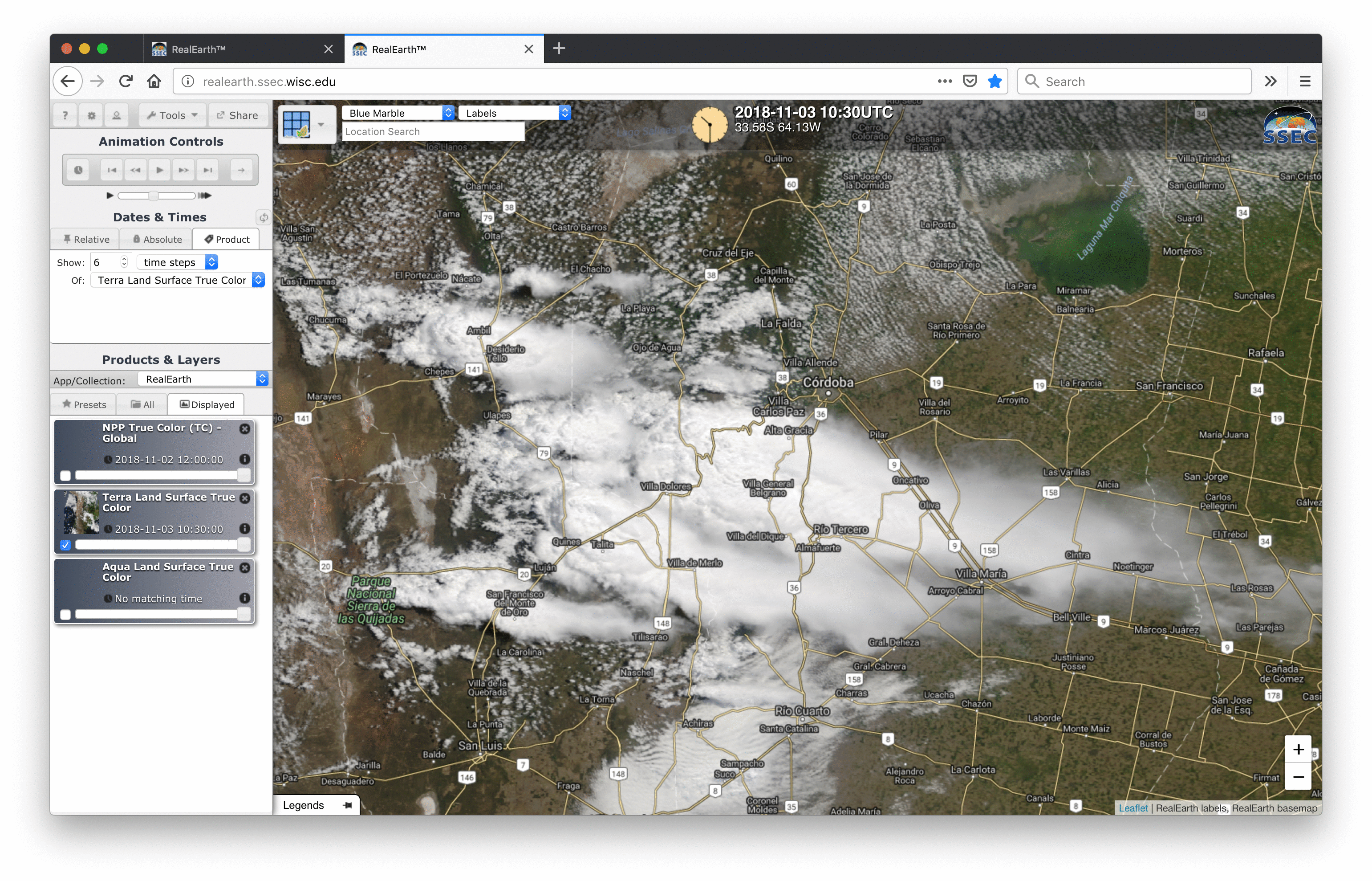 True Color RGB images from Terra MODIS (1457 UTC), Aqua MODIS (1736 UTC), Suomi NPP VIIRS (1742 UTC) and NOAA-20 VIIRS (1832 UTC) [click to enlarge]