The Cooperative Institute for Meteorological Satellite Studies (CIMSS) is involved in a variety of formal and informal education projects, ranging from classes and workshops at the University of Wisconsin to presentations at conferences, museums and schools. CIMSS has been on the forefront of educational software design for over two decades. CIMSS satellite imagery and software products are used by professional meteorologists, teachers and students worldwide.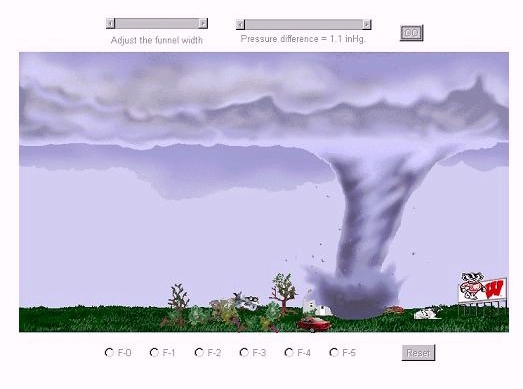 Educational Applets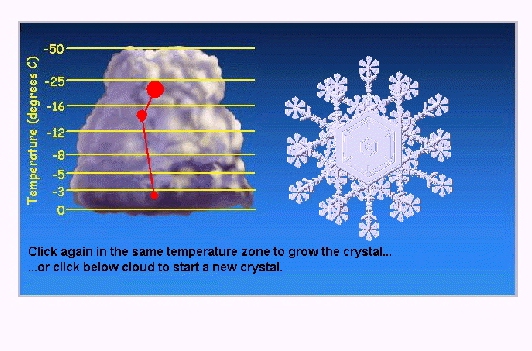 CIMSS Educational Applets are highly interactive teaching and training activities that allow users to explore physical processes such as tornadoes, air density effects on baseballs, thunderstorms snowflake crystals (and more!) all on a computer screen. They are available via CDs and on-line and can also be freely downloaded by anyone in the educational community.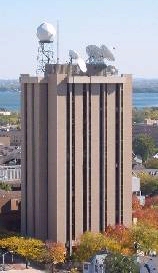 Workshops sponsored by CIMSS
Atmospheric, Earth, and Space Sciences Workshop for High School Students
Offered since 1991, the CIMSS student workshop features an exciting four-day agenda in meteorology, astronomy, land remote sensing and geology. Participating students stay on campus and experience science education, research and technology through hands-on activities working directly with scientists, graduate students and professors.
Teacher Workshop in Remote Sensing and Satellite Meteorology
At this two-day workshop for science teachers, educators visit the UW-Madison campus to refresh their remote sensing and satellite interpretation skills through informative lectures and hands-on computer sessions. Along with working through the modules of our satellite meteorology course, participants can earn college credit while learning from experts who use satellite data for operational and research purposes.

Web based Educational Resources
VISIT and VISITview
The Virtual Institute for Satellite Integration Training (VISIT) is a joint effort between NOAA-NESDIS Cooperative Institutes, NOAA's Environmental Satellite Data and Information Service (NESDIS), and NOAA's National Weather Service (NWS). The primary mission of VISIT is to accelerate the transfer of remote sensing research into NWS operations using a distance learning tool called VISITview. Traditionally used to train NWS forecasters, VISITview is also used by CIMSS in teacher trainings.

Satellite Meteorology for Grades 7-12
This Satellite Meteorology Course was developed for middle and high school science classes. Along with providing a dynamic learning experience for students, it is an excellent resource for educators and anyone interested in learning more about satellite meteorology.

Wisconsin Weather Stories
Wisconsin Weather Stories is on-line project providing K-12 curriculum that explores the science and stories of Wisconsin Weather. The web page features lesson plans teachers can use in their classrooms on topics such as the Armistice Day Storm, the Suomi Story, traditional Weather sayings, weather lore, the Ice Bowl, and Fire Weather.

Satellite Observations in Science Education
Satellite Observations in Science Education (SOSE) combines learning activities with creative e-learning tools called reusable content objects (RCOs) to assist educators teaching remote sensing and satellite technology to high school and college level students.
Suomi Virtual Musuem
The Suomi Virtual Museum is being developed at The University of Wisconsin-Madison, where Professor Suomi lived and worked. It is a cooperative venture between the National Science Foundation, the Space Science and Engineering Center, and the Cooperative Institute for Meteorological Satellite Studies. The museum consists of several alcoves or areas of research that Professor Suomi was involved in during his career.

Suomi Scholarship for UW freshman
Graduating high school seniors who will attend a UW System undergraduate program in the physical sciences are eligible to apply for the Verner E. Suomi Scholarship Award for Outstanding Achievement in the Physical Sciences. The Suomi Scholarship is a one year, nonrenewable, $1000 award to be used during the freshman year of college.

Courses in the UW Atmospheric & Oceanic Sciences Department (AOS)
AOS 152: Weather for Pilots (1-2 credits)
Weather for Pilots is an applied meteorology course designed for pilots and student pilots. The goal of the course is to provide a learning opportunity for those interested in studying advanced aviation-weather topics. It is a web based class. Syllabus.
AOS 100: Weather & Climate (3 credits)
Nature and variability of wind, temperature, cloud and precipitation. Storm system, fronts, thunderstorms, tornadoes and their prediction. Air composition and pollution. Global winds, seasonal changes, climate and climatic change. Discussion session will include weather map analysis and basic quantitative lab exercises. Credit is not given for both 100 and 101. Dr. Ackerman's class web page for AOS100. Dr. Ackerman also has a web based lab session: Web101.
AOS 340: Atmospheric and Oceanic Physics II (2 credits)
This course introduces students to the physics of radiative transfer and remote sensing. Emphasis is on application. This class familiarizes students with the concepts of radiative transport by discussing scattering absorption and emission of radiation, focusing on radiation energy budgets and remote sensing of the atmosphere using observations from different satellites. Web page for Spring 2000.