About CIMSS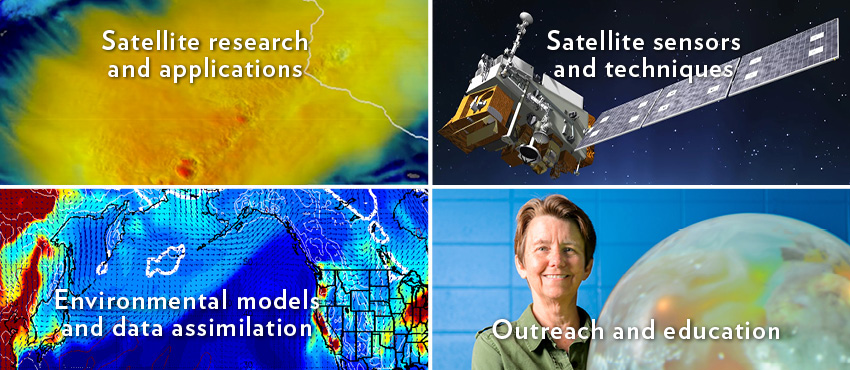 Our Mission
To advance the use of meteorological satellite data to enable the National Oceanic and Atmospheric Administration to meet the nation's weather and climate needs.
Our Vision
To increase awareness, preparedness and resilience to changes in weather and climate by maximizing the benefits of meteorological satellites.
Our Organization
Founded in 1980 , the Cooperative Institute for Meteorological Satellite Studies is a partnership between the University of Wisconsin–Madison and NOAA. One of 17 NOAA cooperative institutes across the US, CIMSS is co-located with NOAA's Advanced Satellite Products Branch, a relationship that facilitates the transfer of research to operations. Collaborations are further enhanced by the institute's placement within the UW–Madison Space Science and Engineering Center.
Led by Director Tristan L'Ecuyer, the institute is uniquely positioned to conduct research using satellite data and other remote sensing systems to study the Earth's atmosphere. Our research is organized around the four central themes below.
Research Themes
Satellite Meteorology Research and Applications
Supporting weather analysis and forecasting by developing, evaluating, and analyzing new and innovative satellite products and guiding their transition into NOAA operations.
Satellite Sensors and Measurement Techniques
Characterizing sensor performance, providing long-term calibration, specifying instrument characteristics for future satellite imagers and sounders, deriving data products that support situational awareness and meteorological applications using cloud computing and machine learning approaches.
Environmental Models and Data Assimilation
Increasing the utilization of satellite data in nowcasting, operational weather analysis and prediction, and atmospheric chemistry models through advanced assimilation techniques.
Outreach and Education
Engaging the workforce of the future in understanding and using environmental satellite observations for the benefit of an informed society.
Partnerships
CIMSS works closely with federal government scientists in NOAA's ASPB as well as other NOAA cooperative institutes, offices, and laboratories. Our close proximity to the UW–Madison Department of Atmospheric and Oceanic Sciences provides strong ties to academia and students, enabling CIMSS to contribute to training future scientists and the NOAA workforce. CIMSS also maintains strong connections to the National Weather Service Milwaukee/Sullivan Office, domestic and international universities, research institutions, governmental and non-governmental organizations, industry and other stakeholders. CIMSS is noted for its long history of forming strategic alliances with international colleagues, agencies and influential working groups to advance the field of satellite remote sensing.
Diversity, Equity and Inclusion
CIMSS is committed to increasing diversity within the cooperative institute, across NOAA and in STEM fields because the best research benefits from the experiences, ideas and opinions of teams with diverse backgrounds. We aim to build an inclusive environment by embracing new approaches to mentoring and educating students from diverse backgrounds, and incorporating diverse perspectives into our research.