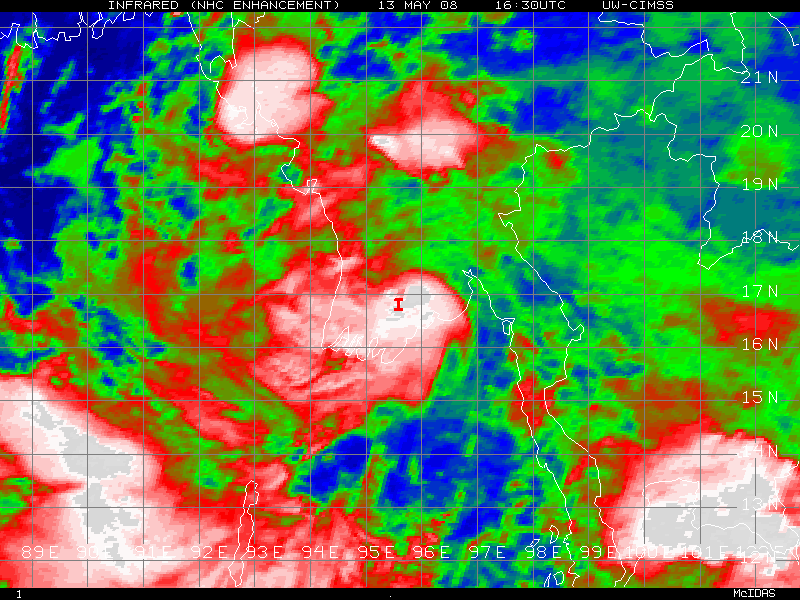 Just 11 days after deadly Cyclone Nargis made its devastating landfall in Myanmar (also known as Burma), Meteosat-7 IR imagery from the CIMSS Tropical Cyclones site (above) showed a new tropical disturbance that was moving northwestward across the Irawaddy Delta region of Myanmar on 13 May 2008. The Joint Typhoon Warning Center issued the following Tropical Cyclone Formation Alert at 20:30 UTC:
WTIO21 PGTW 132030
MSGID/GENADMIN/NAVPACMETOCCEN PEARL HARBOR HI/JTWC//
SUBJ/TROPICAL CYCLONE FORMATION ALERT//
RMKS/
1. FORMATION OF A SIGNIFICANT TROPICAL CYCLONE IS POSSIBLE WITHIN 150 NM EITHER SIDE OF A LINE FROM 16.5N 96.1E TO 19.4N 92.1E WITHIN THE NEXT 12 TO 24 HOURS. AVAILABLE DATA DOES NOT JUSTIFY ISSUANCE OF NUMBERED TROPICAL CYCLONE WARNINGS AT THIS TIME. WINDS IN THE AREA ARE ESTIMATED TO BE 25 TO 30 KNOTS. METSAT IMAGERY AT 131800Z INDICATES THAT A CIRCULATION CENTER IS LOCATED NEAR 16.7N 95.7E. THE SYSTEM IS MOVING WEST-NORTHWESTWARD AT 06 KNOTS.
2. REMARKS: RECENT ANIMATED INFRARED SATELLITE IMAGERY AND A 121210Z SSMI MICROWAVE IMAGE INDICATE PRONOUNCED LOW-LEVEL CYCLONIC TURNING OF CONVECTION AT THE WESTERN END OF THE MONSOON TROUGH. HOWEVER, MORE RECENTLY, CONVECTION HAS WANED SOMEWHAT IN RESPONSE TO LAND INTERACTION. THE CIRCULATION CENTER IS CURRENTLY TRANSITING
GENERALLY NORTHWESTWARD ACROSS THE YANGON DELTA REGION OF MYANMAR. OBSERVATIONS FROM YANGON AS OF 131300Z, SUPPORT A 25 TO 30 KNOT CIRCULATION WITH SEA LEVEL PRESSURES NEAR 1000 MB (3 MB PRESSURE FALLS OVER THE PAST 24 HOURS) AND SUSTAINED WINDS AT 10 KNOTS GUSTING TO 20 KNOTS OUT OF THE NORTHEAST. A PARTIAL 130301Z ASCAT
IMAGE ALSO INDICATES STRONG WESTERLIES TO THE SOUTH OF THE CENTER WITH SUSTAINED EASTERLIES TO THE NORTH, FURTHER PROOF OF CYCLONIC TURNING. THE CENTER CURRENTLY LIES UNDER LOW VERTICAL WIND SHEAR JUST SOUTH OF THE SUBTROPICAL RIDGE AXIS WITH FAVORABLE SOUTHWESTERLY DIFFLUENCE ALOFT. THOUGH THE DISTURBANCE IS CURRENTLY OVER LAND, MINIMAL DEGRADATION OF THE LOW LEVEL IS EXPECTED DUE TO THE LOW LYING TOPOGRAPHY AND FAIRLY QUICK TRANSIT
OVER THE LOW-LYING COASTAL REGION OF SOUTHERN MYANMAR. EMERGENCE INTO THE BAY OF BENGAL IS EXPECTED WITHIN THE NEXT 12 TO 18 HOURS. MAXIMUM SUSTAINED SURFACE WINDS ARE ESTIMATED AT 25 TO 30 KNOTS. MINIMUM SEA LEVEL PRESSURE IS ESTIMATED TO BE NEAR 1000 MB. THE POTENTIAL FOR THE DEVELOPMENT OF A SIGNIFICANT TROPICAL CYCLONE WITHIN THE NEXT 24 HOURS IS GOOD WITH THE ONLY LIMITATION BEING TEMPORARY LAND INTERACTION.
CIMSS satellite-derived atmospheric motion vectors and products (below) indicated that the upper-tropospheric winds, divergence, and deep layer shear were all relatively weak  over the region at that time.