Using VIIRS and ABI to Monitor Northern California Flooding in RealEarth
Using a combined LEO/GEO approach, ABI and VIIRS retrievals are used to estimate flooding from a satellite perspective. Individual flood products from VIIRS and ABI (or AHI, depending on location) are blended to create the NOAA LEO/GEO Flood Mapping Product.
An example is shown below over the Sacramento, California region. Recent rains in California caused flooding in much of the state, including regions near the state's capital, Sacramento, particularly along the Sacramento River. RealEarth provides a 14-day archive of the NOAA LEO/GEO Flood Mapping Product (listed as River Flood: Joint ABI/VIIRS), which is available on a daily basis. The product is an estimate of surface flooded water fractions, and can be obstructed by cloud cover as seen in the frame from 1-29-2023. While the area looks heavily flooded, it is important to note that many of these regions are actually agricultural rice farms that intentionally flood surface areas.
A flood gauge monitored by the USGS shows a decline in water levels over the past week in Sutter County, CA, just north of Sacramento and along the Sacramento River.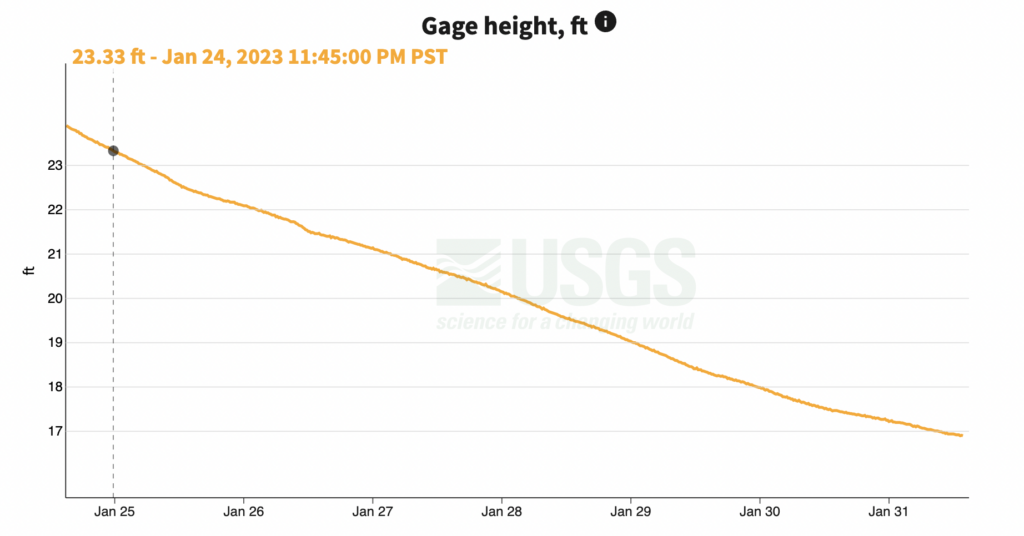 You can generate the RealEarth LEO/GEO Flood Product animation on your own or investigate other flood sites by visiting the RealEarth webpage.