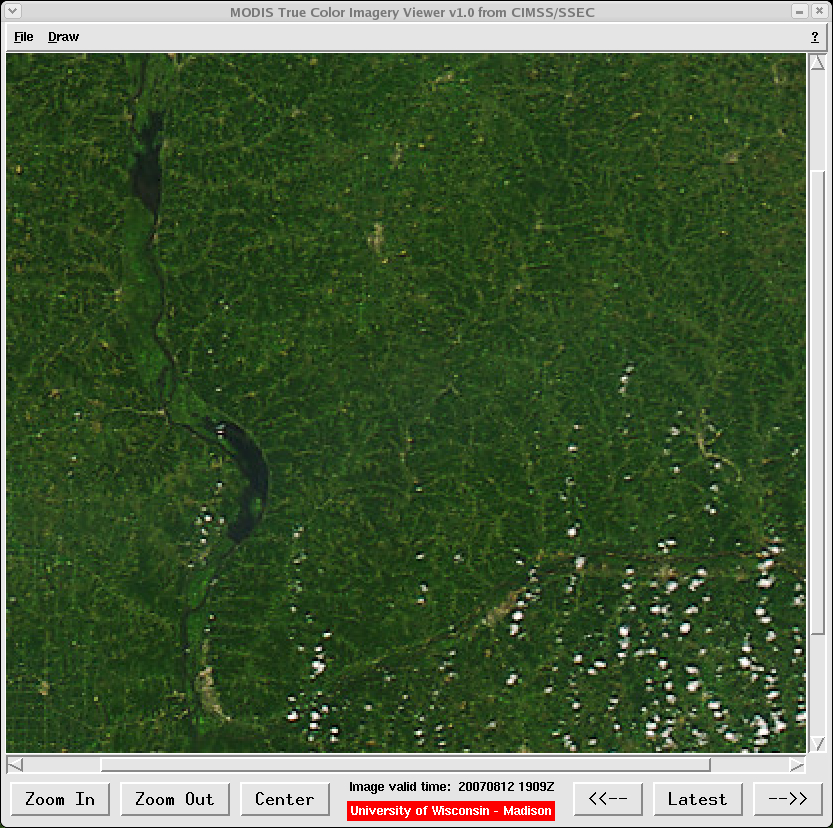 Portions of the Upper Mississippi River Valley region received very heavy rainfall during the last half of August 2007 — 10-20 inches (250-500 mm) of rain was observed in a 30-day period across parts of southeastern Minnesota and southwestern Wisconsin, and 30-day precipitation departures there were as much as 300-400% above normal. A MODIS true color image (using the CIMSS/SSEC "MODIS True Color Imagery Viewer" AWIPS application) centered over southwestern Wisconsin on 12 August (above) shows the Mississippi River (flowing north to south) and the Wisconsin River (flowing east to west) several days before the onset of the heavy rain period. Note the appearance of the Mississippi River "flood plains" (the brighter green areas located just downstream of Lock and Dam Number 8 near Genoa, WI and Lock and Dam Number 9 near Harpers Ferry, IA: Google map).
Two weeks later, a corresponding MODIS true color image from 25 August (below) reveals that much of the Mississippi River flood plains had become flooded by water rich with sediment (lighter brown colors). The Wisconsin River also appears notably wider on the 25 August MODIS image, and one of its major tributaries (the Kickapoo River, flowing north to south) is very evident due to an abundance of sediment-laden water. Use this Java applet to interactively fade (or toggle) between the 12 August and 25 August MODIS true color images.
A new record 24-hour precipitation amount for the state of Minnesota was set when 15.10 inches (384 mm) of rain fell on 18-19 August one mile south of Hokah (which is located near the upper left corner of these MODIS images: Google map). In addition, some locations set new records for the highest total precipitation for any calendar month, including 15.18 inches (386 mm) at Madison WI, and 13.75 inches (349 mm) at La Crosse WI.