(GOES-West)
Water Vapor (6.5 µm) images
(above; also available as an MP4)
showed the development of a quasi-stationary gravity wave train over the northwestern portion of the island chain which appeared to be associated with many of these pilot reports.
HNL UA /OV 2115N16010W/TM 2241/FL320/TP B767/TB CONT MOD TURB
HNL UUA /OV 2115N16048W/TM 2255/FL340/TP H/B747/TB MOD-SEV TURB
HNL UUA /OV BOARD/TM 2350/FL370/TP H/B772/TB SEVERE TURB
PHNL UUA /OV 2443N 15516W /TM 2358 /FL370 /TP B737 /TB SEV 370 /RM ZOA CWSU AWC-WEB
In spite of the large satellite viewing angle, these waves were also very evident on Himawari-8 Lower-level (7.3 µm), Mid-level (6.9 µm) and Upper-level (6.2 µm) Water Vapor images (below; also available as an MP4). The 3 Water Vapor bands on the Himawari AHI are nearly identical to the 3 Water Vapor bands on the GOES-R series ABI.
A toggle between 1-km resolution Terra MODIS Water Vapor (6.7 µm), Infrared Window (11.0 µm) and 250-meter resolution true-color Red-Green-Blue RGB images at 2106 UTC on 12 January
(below)
showed that no high-altitude clouds were associated with the gravity wave features — thus, these aircraft encounters were examples of Clear Air Turbulence (CAT). A color-enhanced version of the Aqua MODIS Water Vapor (6.7 µm) image at 0014 UTC on 13 January is shown below (courtesy of Jordan Gerth, CIMSS).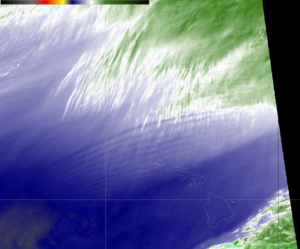 An AWIPS screen capture (below, courtesy of Robert Bohlin, NWS Honolulu and Jordan Gerth, CIMSS) displays a High Pass filter product along with the 3 individual Himawari-8 Water Vapor band images at 0120 UTC on 13 January.

It bears mention that the rawinsonde data from Lihue, Hawai'i at 0000 UTC on 13 January

(below)

indicated significant wind shear (both speed and directional) within the 200-300 hPa layer (

text listing

) — the layer in which many of the turbulence reports were found. The packet of gravity waves was directly over Lihue

(red asterisk)

at that time

(below)

.

Numerous pilot reports of moderate to severe turbulence were received over the Hawai'i area on 12 January 2018 — and GOES-15