McIDAS images of 4-km resolution GOES-15 6.5 µm water vapor channel data (above; click image to play animation) displayed the development of a classic "dry swirl" water vapor signature indicating the transition to an occluded cyclone during the 01 April – 02 April 2012 time period. The Ocean Prediction Center was forecasting large areas of hurricane force winds associated with this storm (00 UTC | 06 UTC | 12 UTC).
A sequence of AWIPS images of 1-km resolution MODIS 11.0 µm and POES AVHRR 12.0 µm IR channel data (below) showed a variery of small-scale banding structures during various stages of development of the storm.
The approach of a strong Potential Vorticity (PV) anomaly helped the storm to intensify rapidly, with with CRAS model fields indicating the tropopause (taken to be the pressure level of the PV1.5 surface) lowering to around the 900 millibar level by 06 UTC on 02 April (below).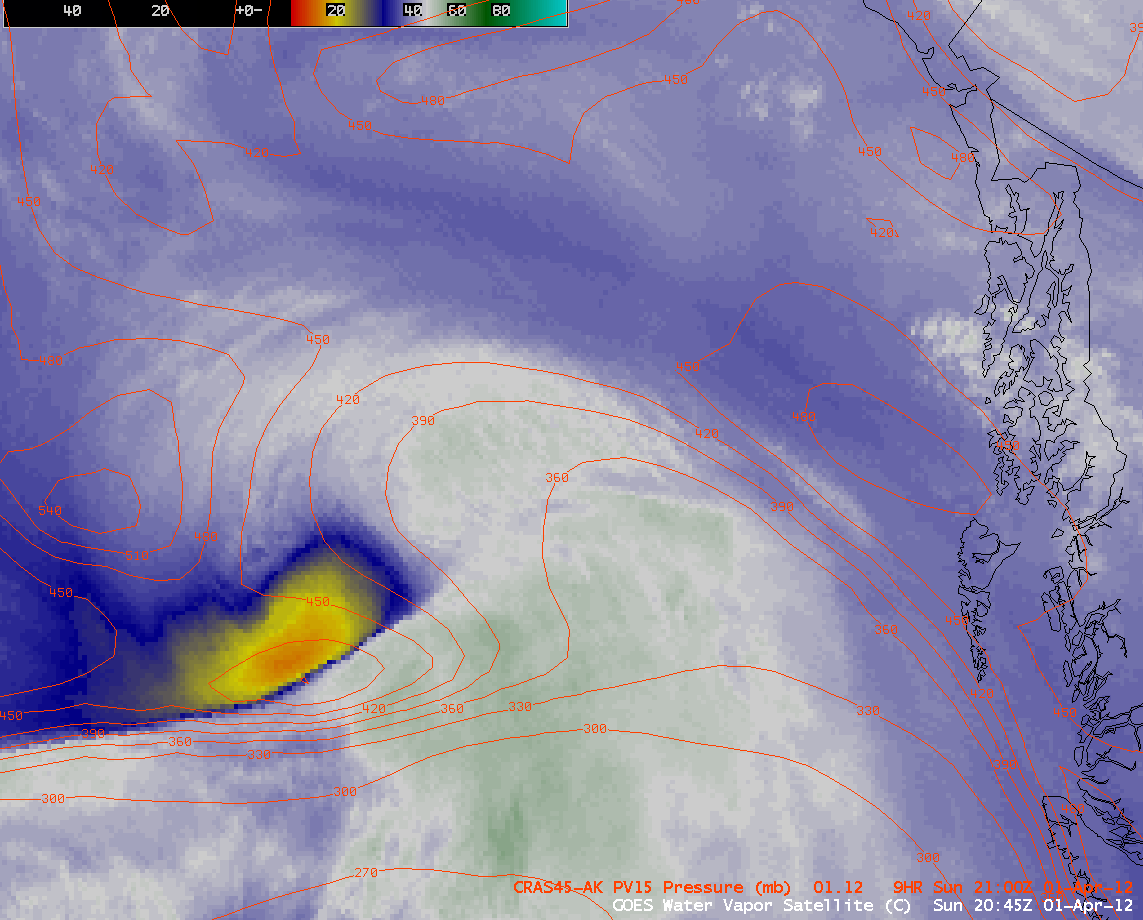 Although the storm was near the edge of the GOES-15 sounder scan, an image of the GOES-15 sounder Total Column Ozone product (below) showed that the PV anomaly was situated along a strong ozone gradient (which is often the case).
The MIMIC Total Precipitable Water (TPW) product (below) showed the storm tapped an area of moisture that was situated north of the Hawaiian Islands, eventually stretching this moisture into a thin filament along the storm's cold frontal boundary.
Later in the day, an overpass of a EUMETSAT MetOp satellite provided ASCAT ocean surface winds over the large occluded storm as it was moving slowly off the coast of British Columbia, Canada. A comparison of 1-km resolution MODIS 0.65 µm visible channel and MODIS 11.0 µm IR channel images with an overlay of ASCAT wind vectors is shown below.