Satellite imagery and multiple earthquakes near American Samoa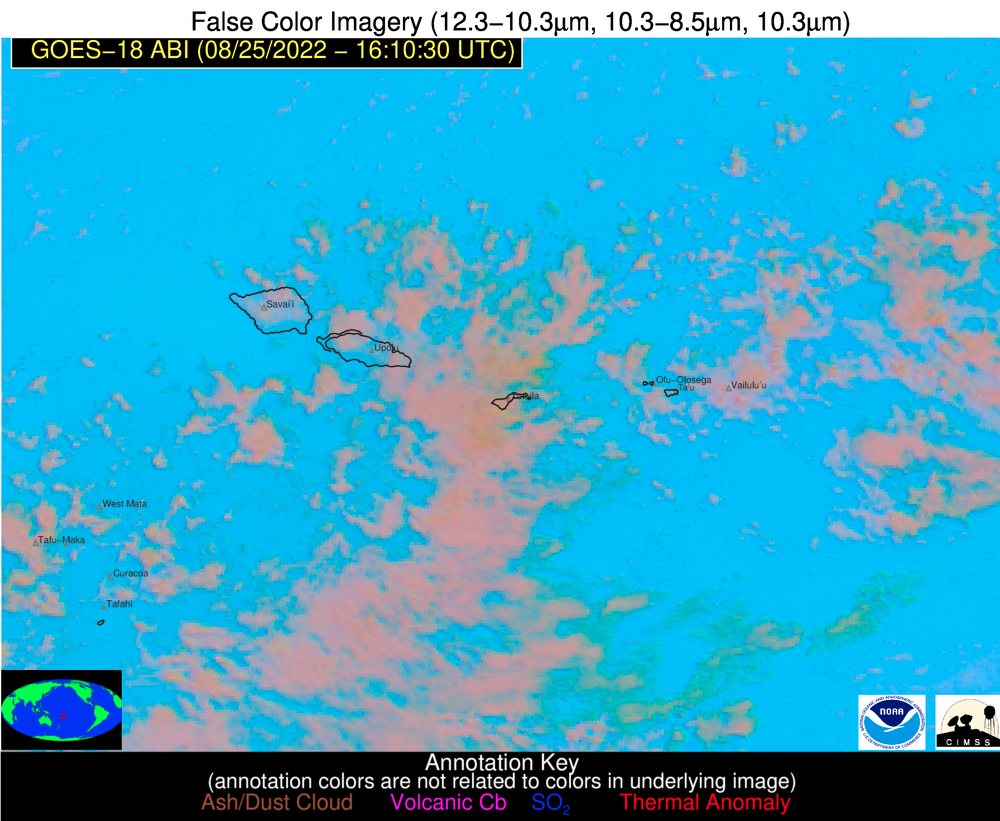 Seismic activity has been ongoing in August 2022 beneath the island of Ta'u to the east of American Samoa. (USGS has published a variety of information on this swarm of Earthquakes: link 1; link 2; link 3); See also these two recorded Facebook Live presentations from the NWS WSO office in Pago Pago: (August 22nd and August 17th). Volcano updates fro Ta'u can also be viewed here.
The Volcanic Ash Advisory Center (VAAC) that has responsibility for this region of the south Pacific is Wellington NZ. Click here for a pdf that shows all VAAC boundaries.
Should an eruption occur (NOTE: An eruption is not expected in the near term!), what kind of satellite information will be useful? The Volcanic Cloud Monitoring website (link) from CIMSS includes imagery over various sectors on Earth, sorted by VAAC. For American Samoa, and adjacent regions, Choose 'Satellite Imagery' and under the 'Sector' menu, and then choose, under the Wellington VAAC subsection, 'American Samoa (750 m)' Both GOES-17 / GOES-18 and Himawari view the region, but GOES-17/GOES-18 sub-satellite points are closer to American Samoa and will provide better resolution views. (NOAA-20 and Suomi-NPP as polar orbiters will provide the highest spatial resolution data, but have poor temporal resolution). You can choose various image types at the website: quantitative estimates of Ash Loading, Ash Height, Ash Loading, Ash Reflectivity, Single-channel Brightness Temperatures (or Reflectivity), and various Red/Green/Blue composites. Note that this website has an extensive explanatory section (under the 'Tutorials' tab) to help you understand what you're seeing in the imagery. The GOES-18 false-color image red/green/blue image, above, is the from the website. An eruption is not occurring, nor detected, in the image.
Various websites also allow views of Satellite Imagery over the region. For example, the CSPP Geosphere site includes True-Color imagery (day) and Night time Microphysics (night) by default, but also allows a user to view single channels. (Direct link, see an example below) There is also a NOAA/NESDIS site that includes some RGBs and each of the individual bands; the CIRA Slider also includes imagery over the south Pacific.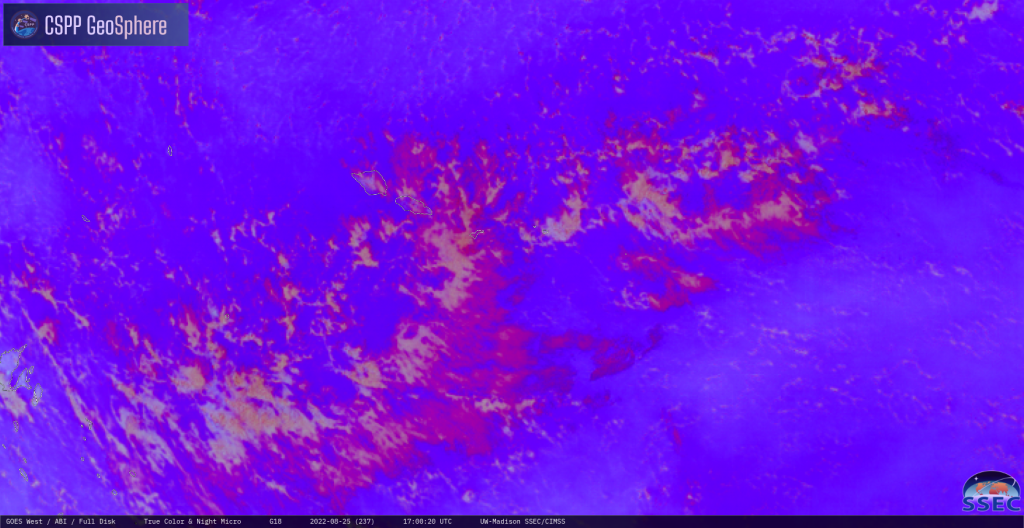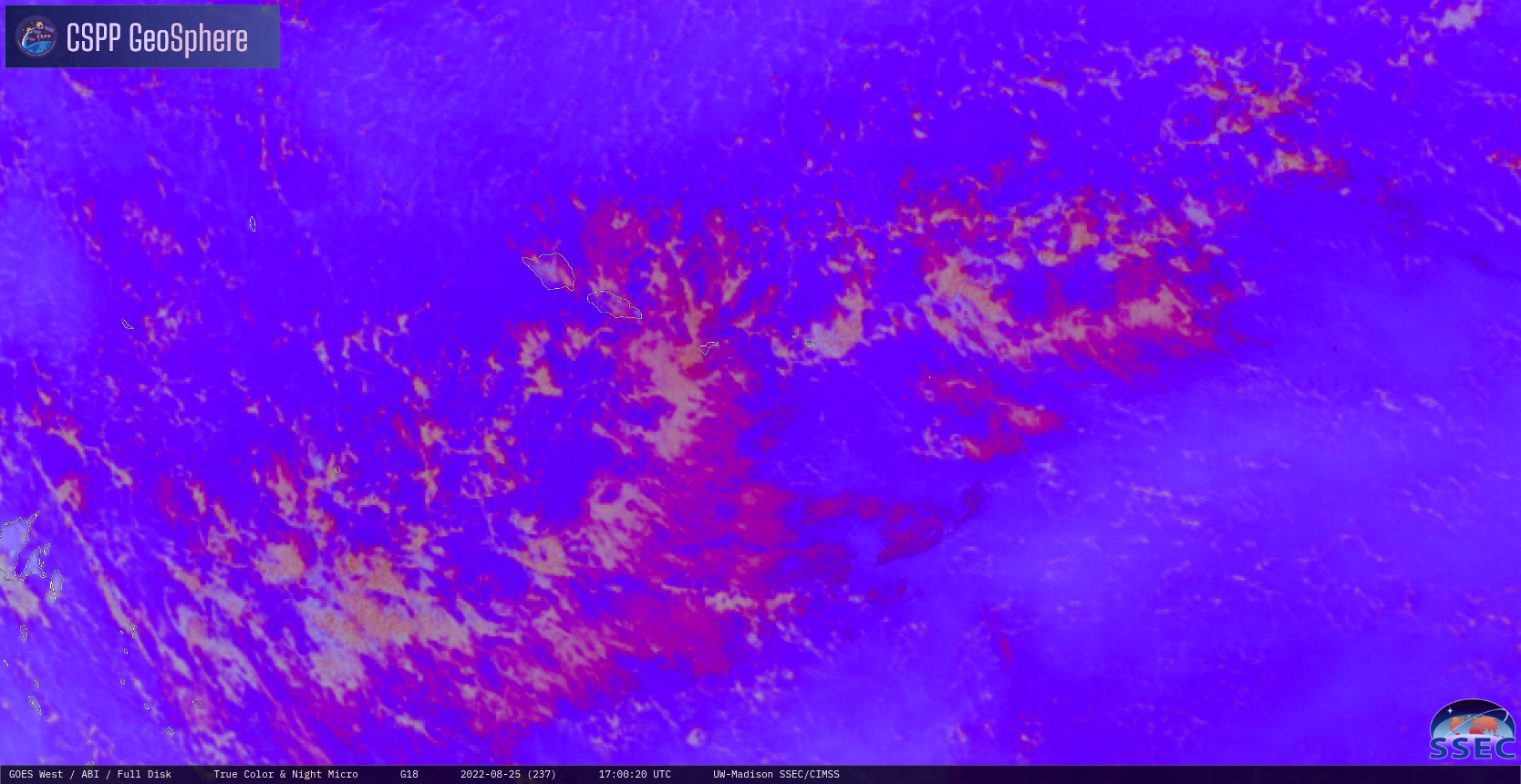 Wind direction will be important if an eruption occurs (this is at present unlikely!!) to know as that will control the dispersion of any gases. The windy.com website will provide this with this link.
---
This blog entry is meant to be a resource should an eruption occur. (Note: that is not expected!) For more information, please refer to the USGS website, and the American Samoa Facebook page.