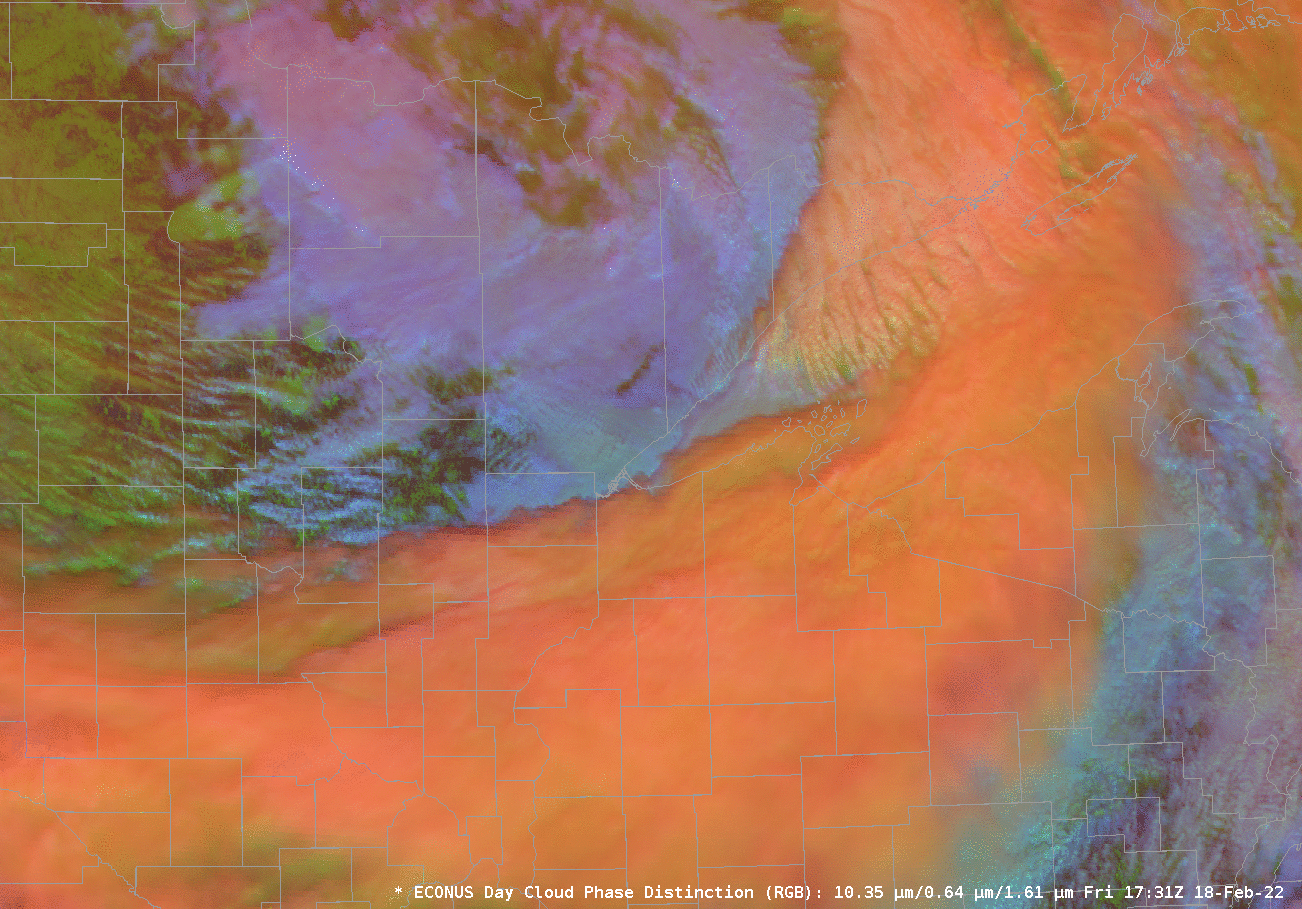 The animation above, of the Day Cloud Phase Distinction RGB, shows bands of snow showers/squalls rotating cyclonically through northern Minnesota and northwestern Wisconsin, to the south of a strong cyclone over northern Minnesota and northwestern Ontario (link to map from 1800 UTC on 18 February). The tops of these clouds are fairly low — in the RGB they have a periwinkle color in contrast to the orange/red color of the higher cirrus to the south. The RGB also allows for good contrast between the clouds and the clear snow-covered grounds (with greenish tones) to the west.
A potency of the upper air system supporting the surface cyclone is highlighted in the Ozone Anomaly fields from gridded NUCAPS data, shown below. Anomalies of 120-140 dobson Units are present.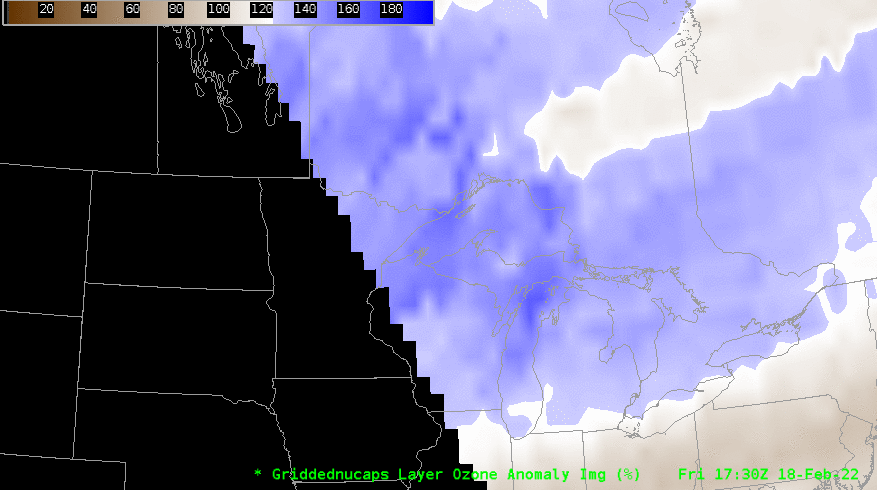 The National Weather Service in Duluth MN issued a series of Snow Squall Warnings; the first one, valid until 1945 UTC, is shown below (taken from this tweet); sequential tweeted Warnings are here (valid until 2015 UTC), here (valid until 2100 UTC), here (valid until 2145 UTC) and here (valid until 2215 UTC). (Note, WFO ARX — in Lacrosse, WI, is issuing Snow Squall warnings for this system as well!)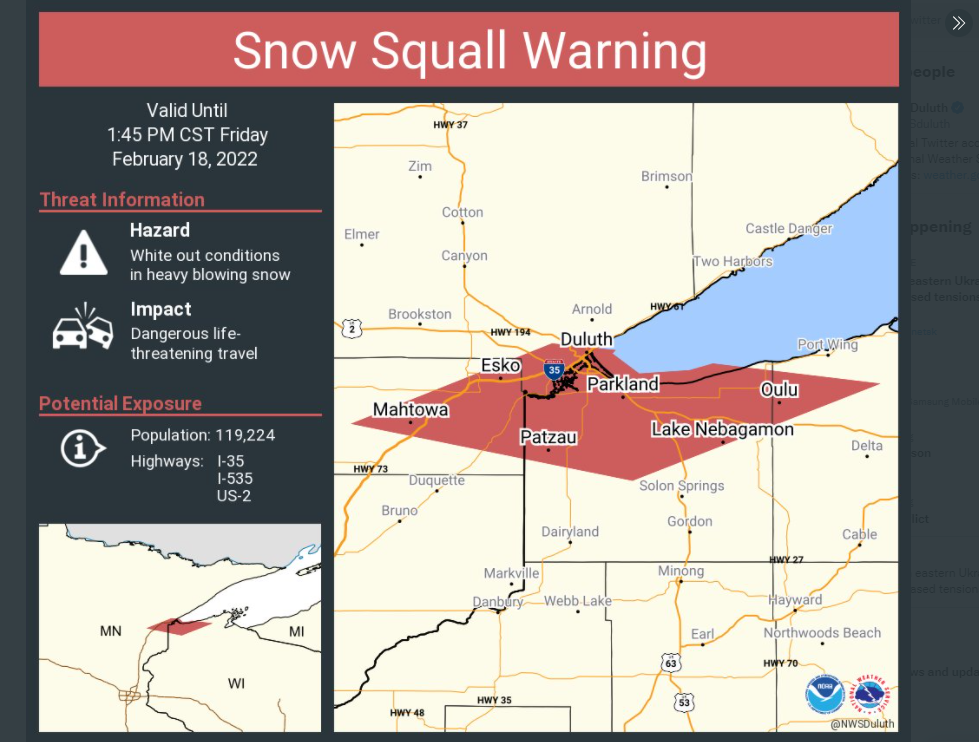 Three radars for this event are shown below: 1907, 1937 and 2007 UTC.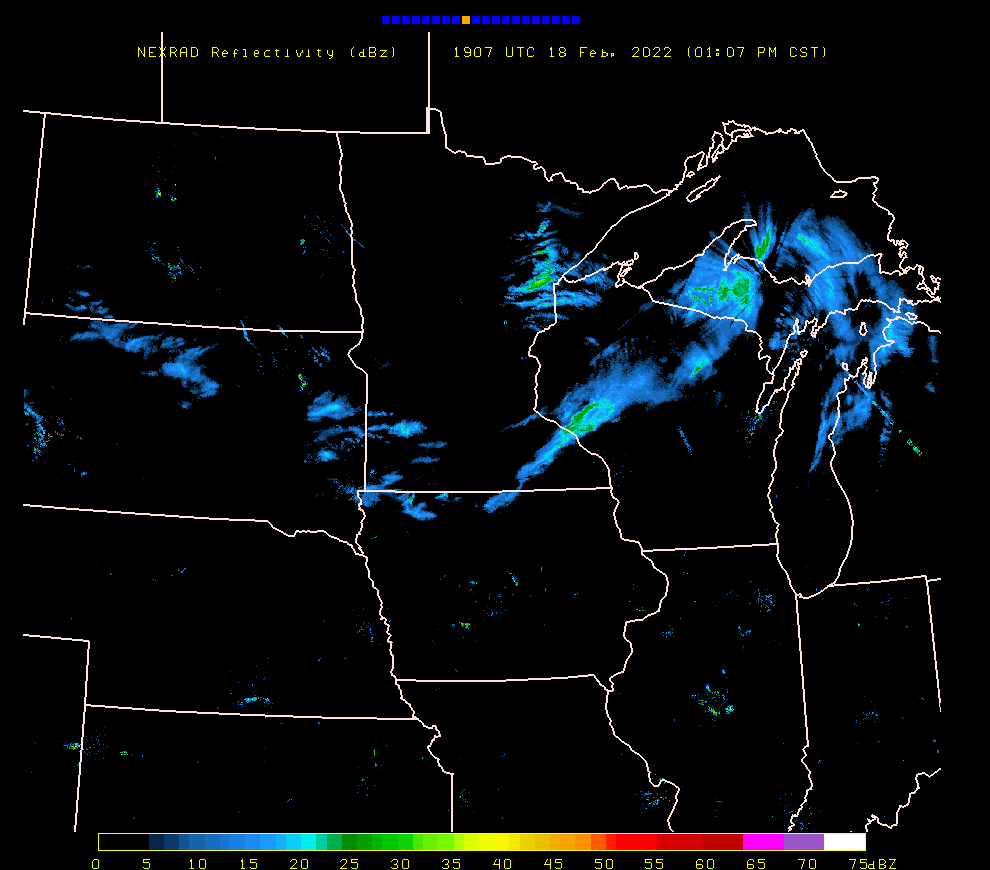 VIIRS imagery (available from the CIMSS LDM feed) over the Duluth Area afforded a high-resolution view of this event. The toggles below show True and False Color imagery at 1838 UTC (from Suomi NPP) and at 1929 UTC (from NOAA-20) At 1838 UTC, the clouds producing the snow — between Moose Lake and Floodwood — do not stand out. They are much more noticeable in the 1929 UTC image, southeast of Duluth and northwest of Solon Springs.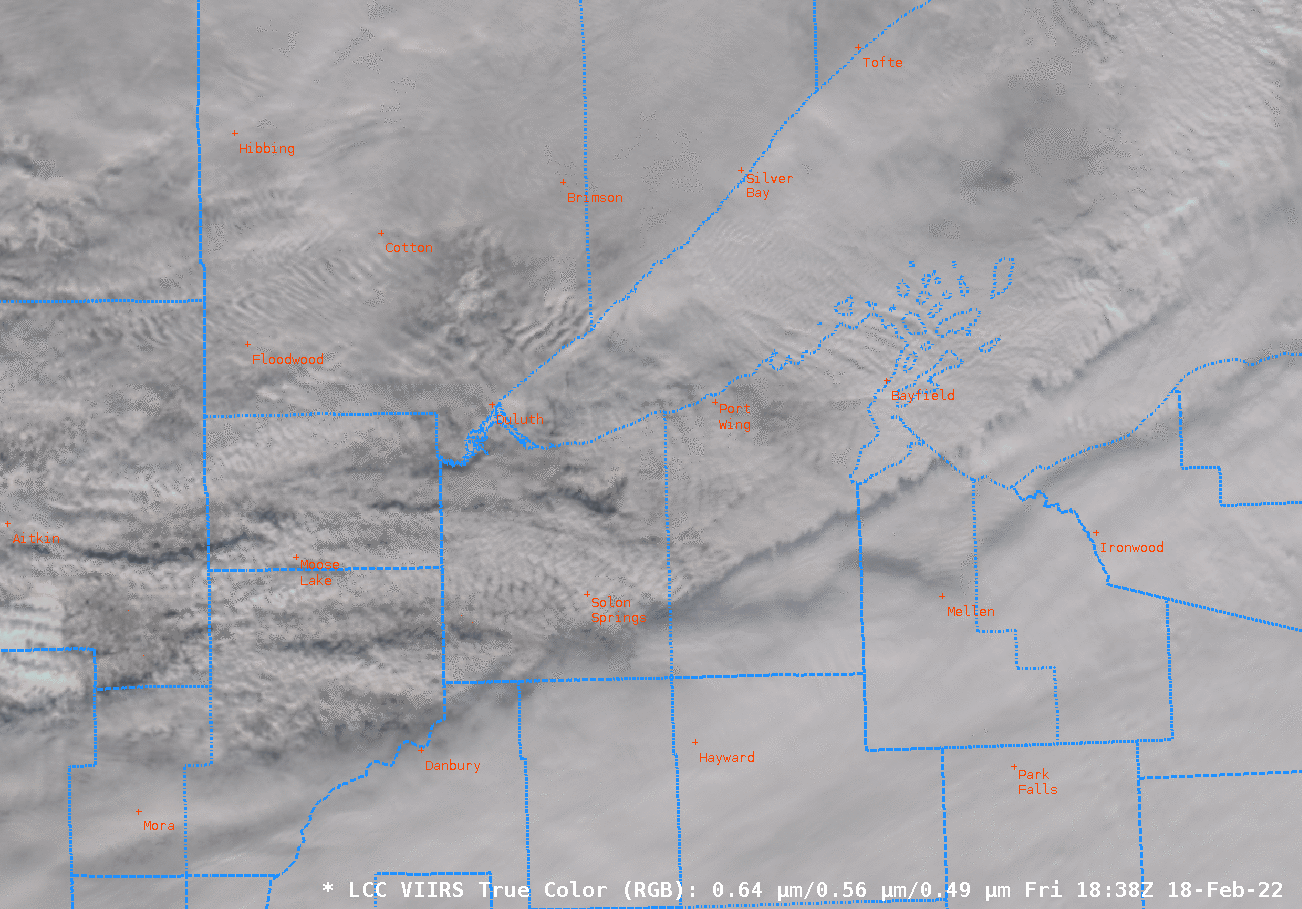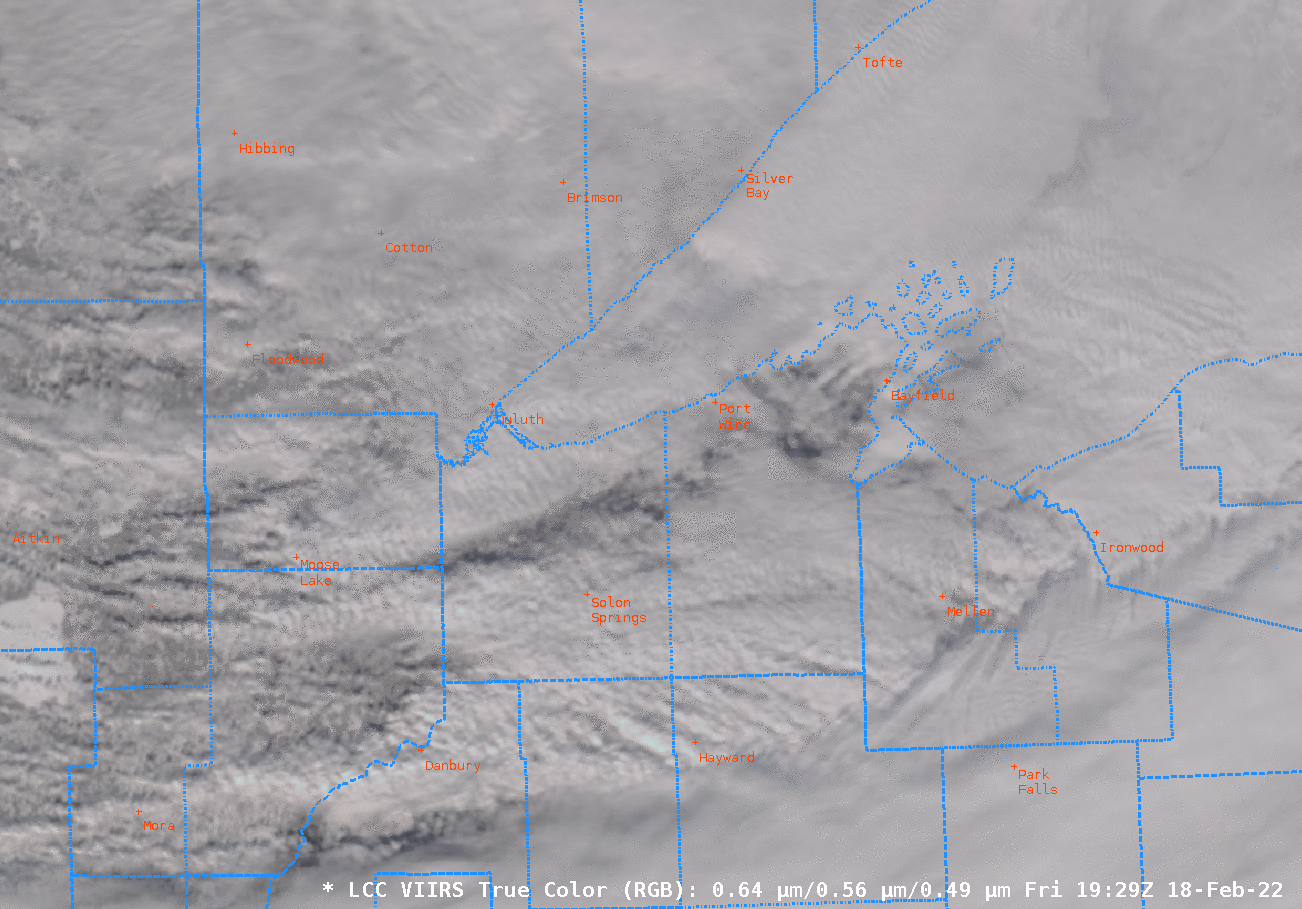 ---
What was the effect on visibility? That is shown in the animation below with a 10-minute time step. Note how Duluth goes from southwesterly winds with light snow and 5- to 10- mile visibility to strong northwest winds (gusts to 45 knots) and reduced visibilities as the squall moves through.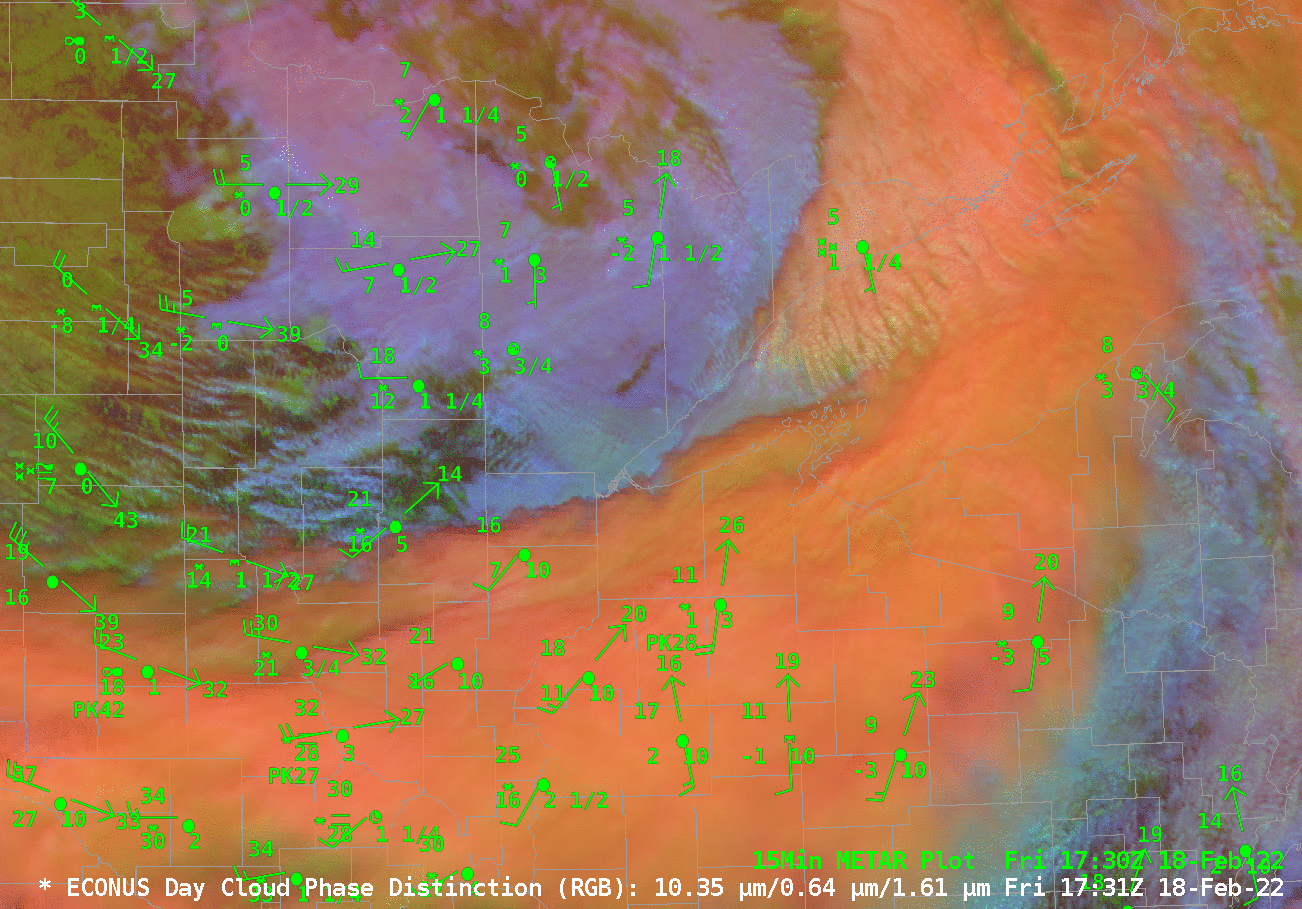 ---
As this front moved through southern Wisconsin, it generated lightning, as shown in the animation below (from this website).