Cyclonic Storm Jawad and Typhoon Nyatoh in GK2A imagery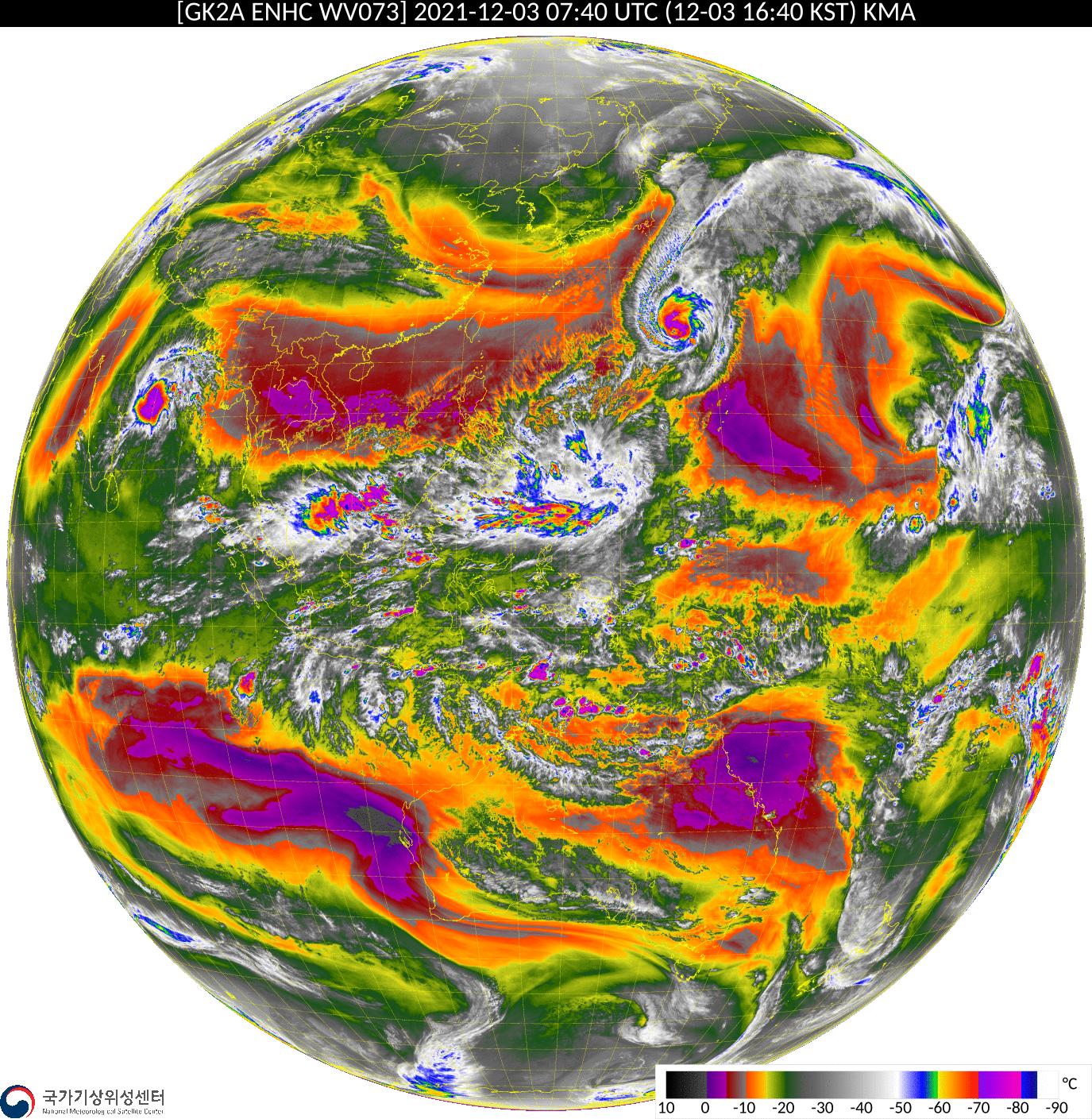 South Korea's GK2A satellite (carrying the AMI instrument that is very similar to both AHI on Himawari-8 and ABI on GOES-16/GOES-17) is overhead on the Equator at 128 E Longitude, and satellite imagery (link) and products (link) are available online. The low-level Water Vapor animation (GK2A Band 10, 7.3 µm), above, hourly from 0740 to 1640 UTC on 3 December 2021, shows the evolution of Nyotah from a symmetric to asymmetric storm in the central Pacific. The 1500 UTC Advisory from the Joint Typhoon Warning Center shows a storm south and east of Japan that is forecast to weaken significantly in the next two days. The animation also shows Jawad in the Bay of Bengal in a moist corridor between very dry low-level air over southeast Asia and western India/the Arabian Sea. The 1500 UTC advisory for Jawad suggests modest strengthening in the next day then landfall near the border of India and Bangladesh.
MIMIC Total Precipitable Water fields for the 24 hours ending 1600 UTC on 3 December 2021, below, show drying around Nyotah, and the deep (but somewhat isolated) moisture surrounding Jawad.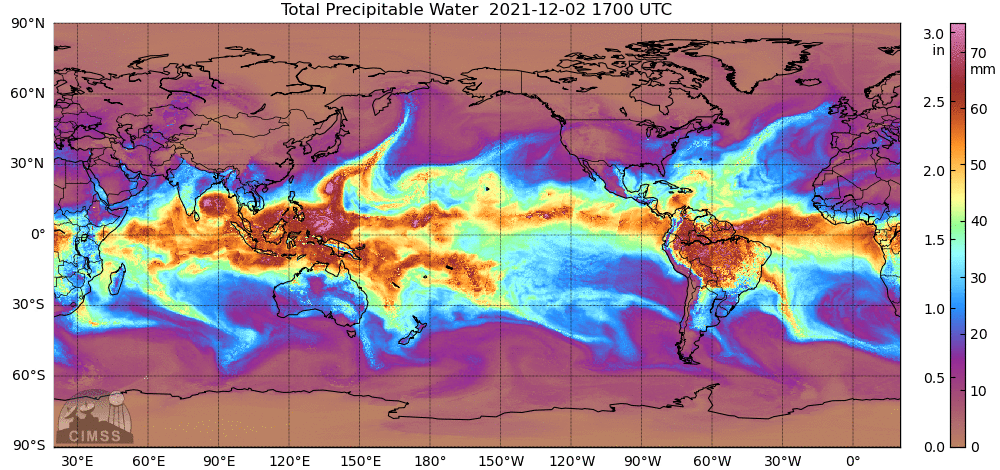 ---
One of the products available at the GK2A product site is Rain Rate, and a toggle of that product at 1540 UTC (overlain on top of clean window infrared imagery) and low-level water vapor imagery is shown below. Heaviest instantaneous rains are diagnosed in the ITCZ Monsoon trough centered near Indonesia.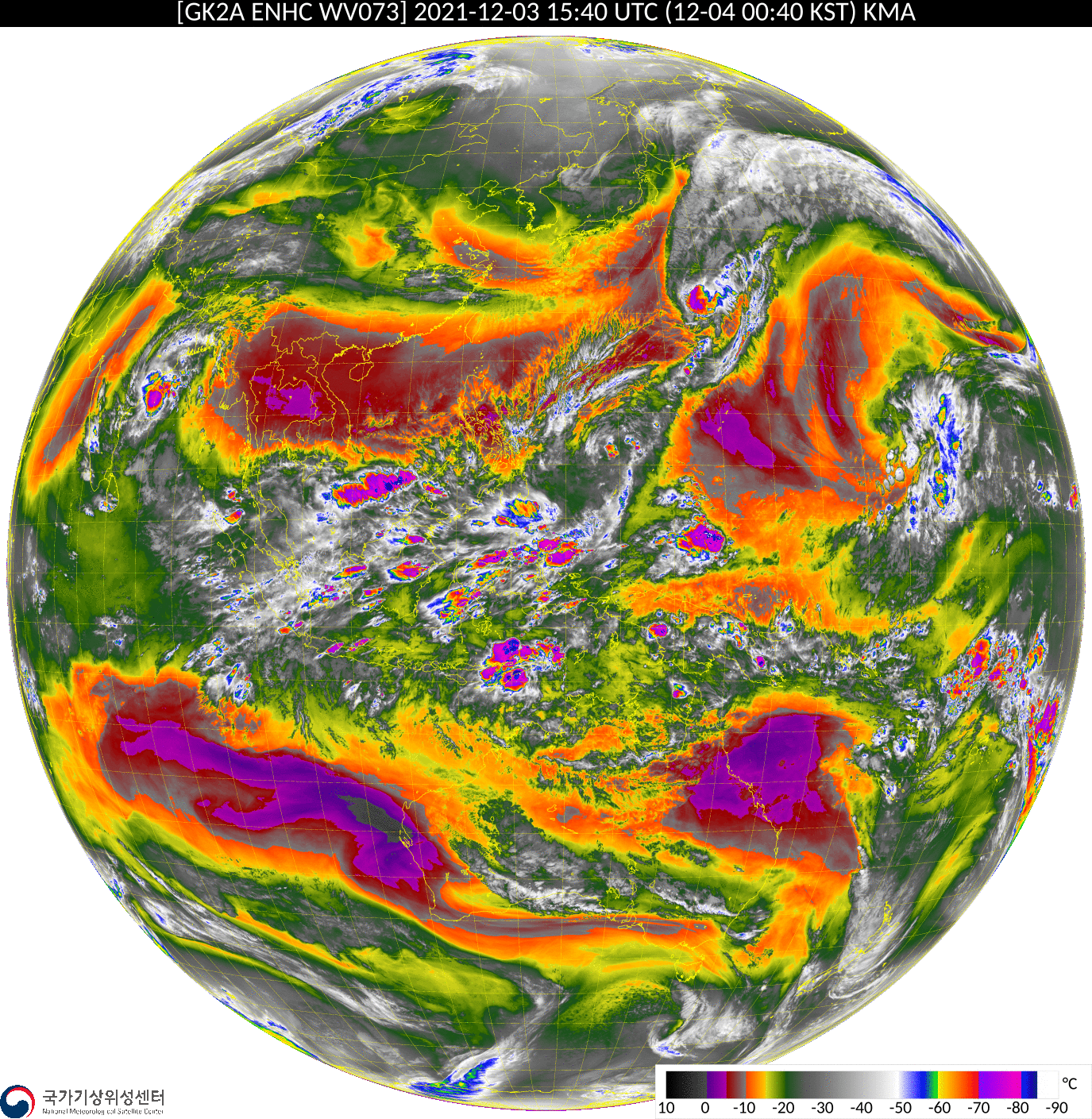 ---
Thanks to KMA for making these awesome products and channels available!