25th Anniversary of the Oakfield, Wisconsin F5 tornado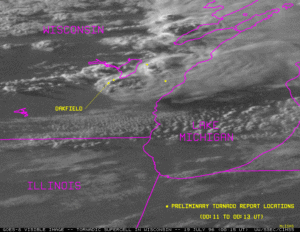 An F5 tornado struck the village of Oakfield, Wisconsin late in the day on 18 July 1996 (NWS Milwaukee story). An animation of GOES-8 (GOES-East) Visible images (below) showed the development of supercell thunderstorms as they moved east-southeastward across the area. Oakfield is located just southwest of Fond du Lac (KFLD), and is denoted by the yellow '+' symbol on the images. Overshooting tops were evident on these thunderstorms.

The corresponding GOES-8 Infrared Window images (below) revealed cloud-top infrared brightness temperatures as cold as -63.6ºC (darker shades of red) at 2345 UTC, which was approximately 30 minutes prior to the tornado moving through Oakfield (the GOES-8 imager instrument was actually scanning the Oakfield area at 2348 UTC). On a larger-scale view of GOES-8 Water Vapor images (below), a sharp gradient of warm-to-cool brightness temperature — orange/yellow to blue enhancement, portraying the gradient of dry air to moist air — highlighted the presence of a middle-tropospheric jet streak that was moving southeastward across the state. Examples of Derived Product Images from the GOES-8 Sounder can be seen here.