The Pfeiffer Fire (InciWeb | Wildfire Today) began to burn in the Big Sur area of central California just after 08:00 UTC or Midnight local time on 16 December 2013. McIDAS images of 4-km resolution GOES-15 3.9 µm shortwave IR data (above; click image to play animation) showed the initial appearance of a fire "hot spot" (darker black to red color enhancement) at 08:11 UTC or 12:11 AM local time, with IR brightness temperatures increasing to 339.3 K or 66.2º C (red color enhancement) at 10:15 UTC or 2:15 AM local time. Although the fire hot spot was generally identifiable during most of the following 48 hours (even through cirrus cloud features passing overhead), it never was seen to reach that early intensity again.
Spatial resolution is very important for the accurate location and characterization of fires — this is demonstrated by an AWIPS image comparison of 1-km resolution Suomi NPP VIIRS 3.74 µm and 4-km resolution GOES-15 3.9 µm shortwave IR data just after 10 UTC on 17 December (below). The warmest IR brightness temperature on the GOES-15 image was 15º C (darker black pixels) compared to 54.5º C (red pixels) on the VIIRS image.
The growth of the fire from 16 December to 17 December could be seen by comparing night-time images of Suomi NPP VIIRS 3.74 µm shortwave IR data (above) and the corresponding VIIRS 0.7 µm Day/Night Band data (below). Signatures of the fire — both the size of the fire hot spot on the shortwave IR images, and the bright glow from the fire complex on the Day/Night Band images — were seen to increase in size on 17 December. The fire was estimated to have burned about 500 acres by the afternoon of 17 December, and was only 5% contained at that time. A number of homes and other structures were lsot to the fire, and some evacuations had to be carried out.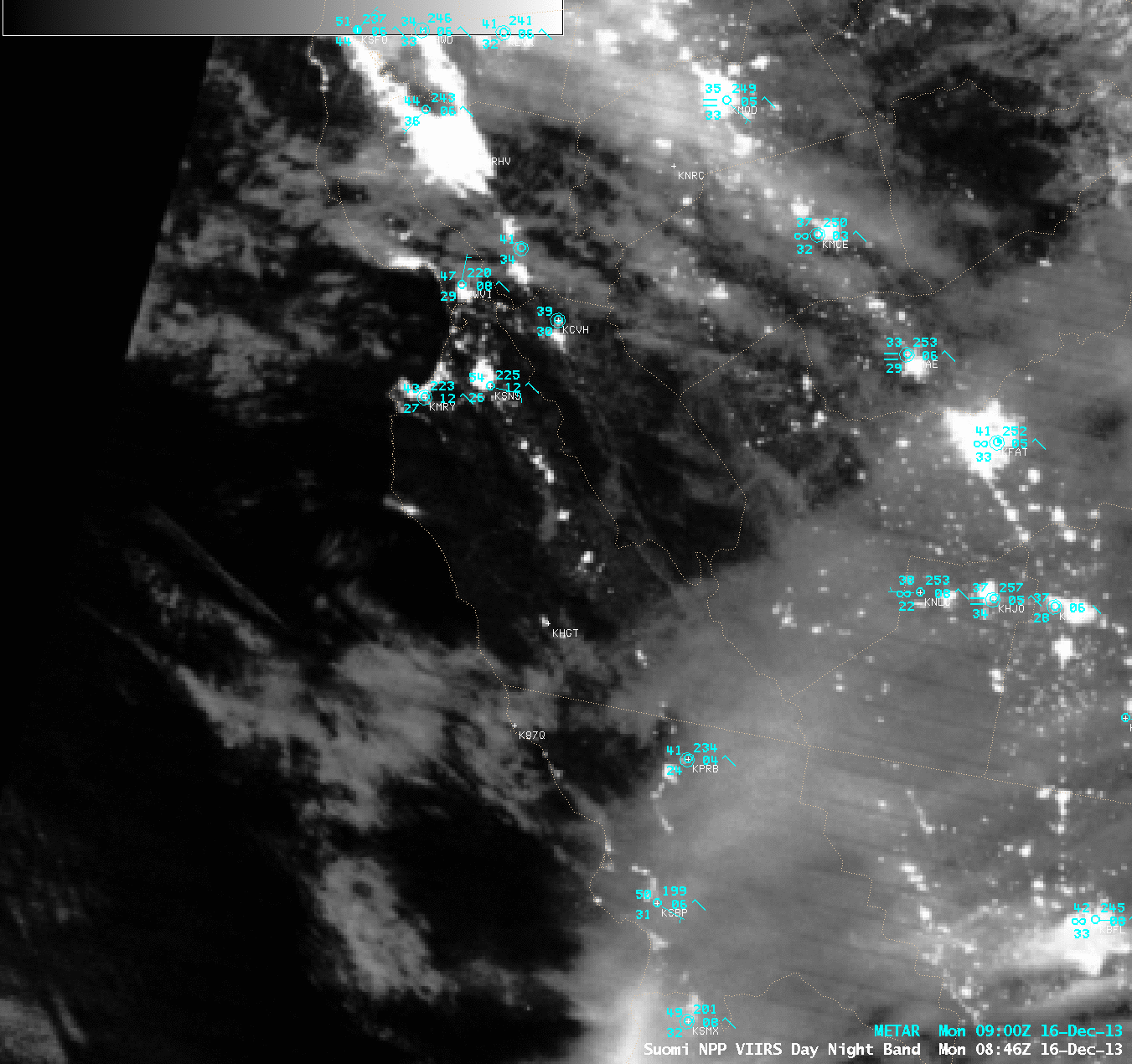 On the 17 December VIIRS images, note the observation of smoke on the surface report for Monterey (station identifier KMRY) north of the Pfeiffer Fire. At that time, the surface visibility there was only being reduced to 10 statute miles — however, later in the day on 17 December the surface visibility was as low as 4 statute miles at 23 UTC (3 PM local time) and 00 UTC (4 PM local time), causing some air quality problems.