Our Global Climate System
Earth's Global Climate System is the result of complex interactions between land, ocean, ice and atmosphere. The lessons in this unit lay the foundation for climate literacy by reviewing fundamental processes that govern global climate patterns.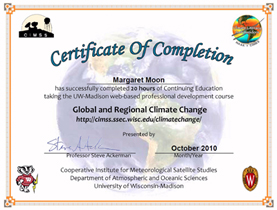 If you register and log in when you access this course then complete the activities and quizzes from all 16 lessons you can generate and print a certificate of completion indicating 20 hours effort to apply to continuing education credit.