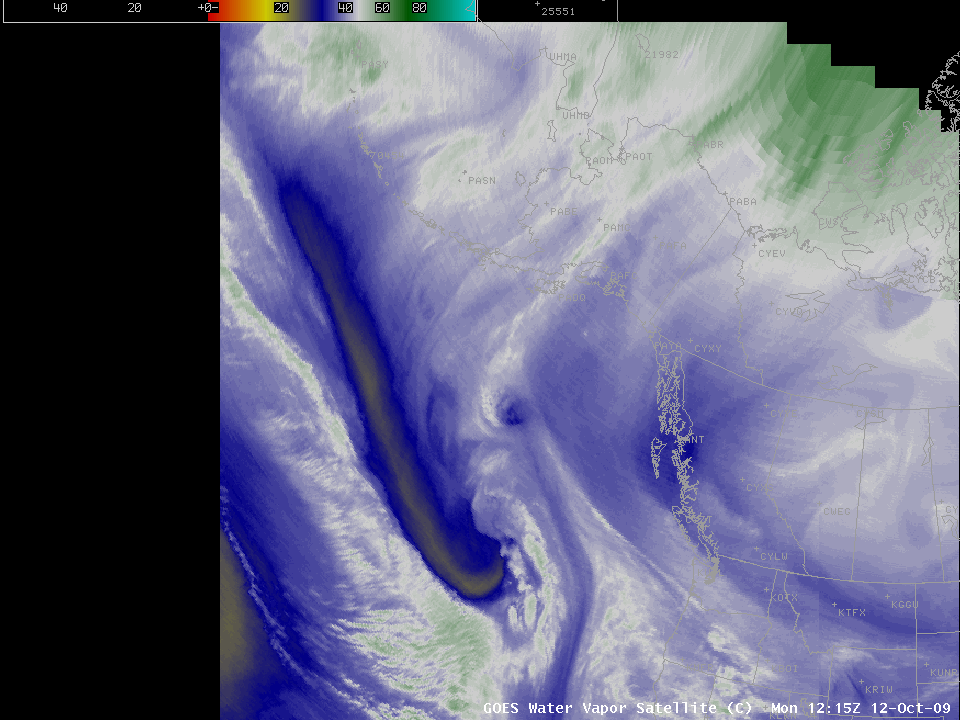 Columbus Day is the Anniversary of a truly historic storm in the Pacific Northwest. On October 12, 1962, one of the most intense storms on record caused wind gusts exceeding hurricane force over a broad swath of coastal Washington and Oregon. Now, 47 years later, a weaker but still potent storm is poised to move onshore.
Water vapor imagery (above) shows the characteristic signal of a strong jet, with a dark band, indicating sinking and drying (and warmer brightness temperatures because the satellite sensor is seeing farther down into the atmosphere), on the poleward side of the strongest winds. Aircraft wind observations (plotted in red) show numerous observations of wind speeds exceeding 150 knots, and the GFS analysis 6-hr forecast valid at 1200 UTC this morning (the time of the water vapor image) shows a 160+ knot jet on the 345 K isentropic surface.
The big storm of 1962 could be easily linked to a tropical cyclone that moved north just west of the Dateline. Is the jet now present in the Pacific linked to Typhoon Melor, which storm was off the coast of Japan last week? This animation of enhanced 11-micron imagery over the Pacific Ocean suggests that it is. Certainly the moisture from the tropical system is part of the jet; careful inspection of the imagery suggests that the mid-level vorticity from Melor is also involved in this jet.