VIIRS Imagery Viewer is online at CIMSS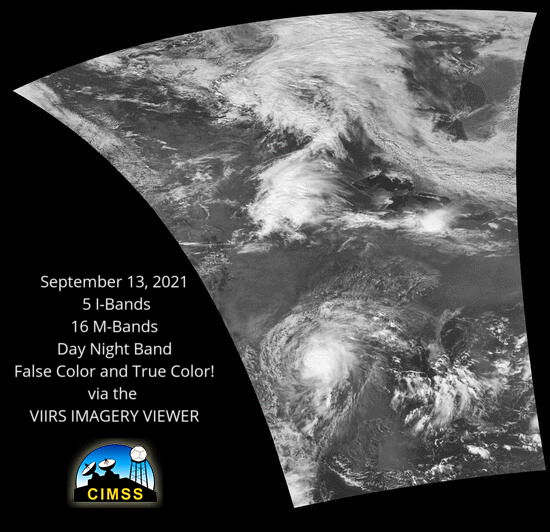 The VIIRS Imagery Viewer hosts 7 days' worth of imagery over North America — refreshed daily — for all 22 VIIRS channels. Five of these channels are imaging-resolution bands (I-Bands) with a resolution of 375 m, and sixteen are moderate-resolution bands (M-Bands) with a resolution of 750 m. The viewer also hosts Day Night Band (DNB) images that provide unique nighttime perspectives. CIMSS acquires the data from the Suomi-NPP and NOAA-20 polar-orbiting satellites via Direct Broadcast antennas.  As new images become available from the Visible Infrared Imaging Radiometer Suite (VIIRS), they are processed via CSPP software and presented in a thumbnail directory, usually within 60 minutes of acquisition onboard the spacecraft. The thumbnails link to high resolution full overpass images. In addition to the individual bands, the VIIRS Imagery Viewer features multiple Level-2 products. The most popular are True and False Color images.  
CIMSS Direct Broadcast is one of the few places to access images in all 22 bands collected by VIIRS. Previously (and still) available via ftp (at https://ftp.ssec.wisc.edu/pub/eosdb/), the VIIRS Imagery Viewer makes it easier for students and citizen scientists to access the data, especially students participating in the JPSS Virtual Science Fair.
Visit the VIIRS Imagery Viewer at https://cimss.ssec.wisc.edu/viirs/imagery-viewer/.