(above)
showed a pocket of cold air exhibiting a minimum infrared brightness temperature of -35.2ºC (-31.4ºF) in the vicinity of Potomac, Montana at 0915 UTC (3:15 am MDT) on 25 October 2020 — the overnight low air temperature at Potomac was -29ºF, which turned out to be the coldest officially observed air temperature for this early in the winter season for the Lower 48 states.
???? It bears repeating. Potomac's -29°F is the LOWEST TEMP measured at an official climate station ANYWHERE in the lower 48 so early in season IN ANY YEAR!

Previous lowest by Oct 25:
-20°F at Babb 6 NE, Blackleaf, and Bowen, MT, 10/24-25/1919.

Big H/T to @Climatologist49! https://t.co/iGCzJYgI6C

— NWS Missoula (@NWSMissoula) October 25, 2020
According to the
NOHRSC
site, Potomac had a snow depth of 18 inches that morning
(below)
.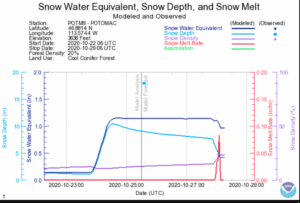 A toggle between Suomi NPP VIIRS Infrared Window (11.45 µm) and Topography images