Publications
Resources courtesy of SSEC's AOSS Library:
Bibliographies (ASPB, GOES-R, High Spectral Resolution FTIR, Tropical Cyclone, WFABBA)
The AOSS Library maintains other resources that may be of interest.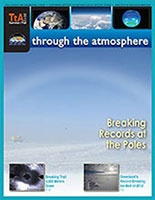 Through the Atmosphere Magazine
CIMSS now jointly produces a biannual research magazine (Through the Atmosphere) with its parent organization, the Space Science and Engineering Center.
If you would like to be added to the mailing list for Through the Atmosphere, please contact Maria Vasys. Or to access past issues, please visit the Through the Atmosphere archives.