Regional Climate Change
Earth's weather and climate vary over time and space. Populations and energy use decisions made in one region typically affect people, ecosystems, and environment worldwide. Impacts of climate change are expected to vary by country and region.
14) Global Projections for Regional Climate Change
15) Climate Change Impacts in the Continental United States
16) Regional Mitigation and Adaptation Responses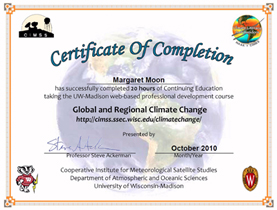 If you register and log in when you access this course then complete the activities and quizzes from all 16 lessons you can generate and print a certificate of completion indicating 20 hours effort to apply to continuing education credit.