ACSPO SSTs on 9 November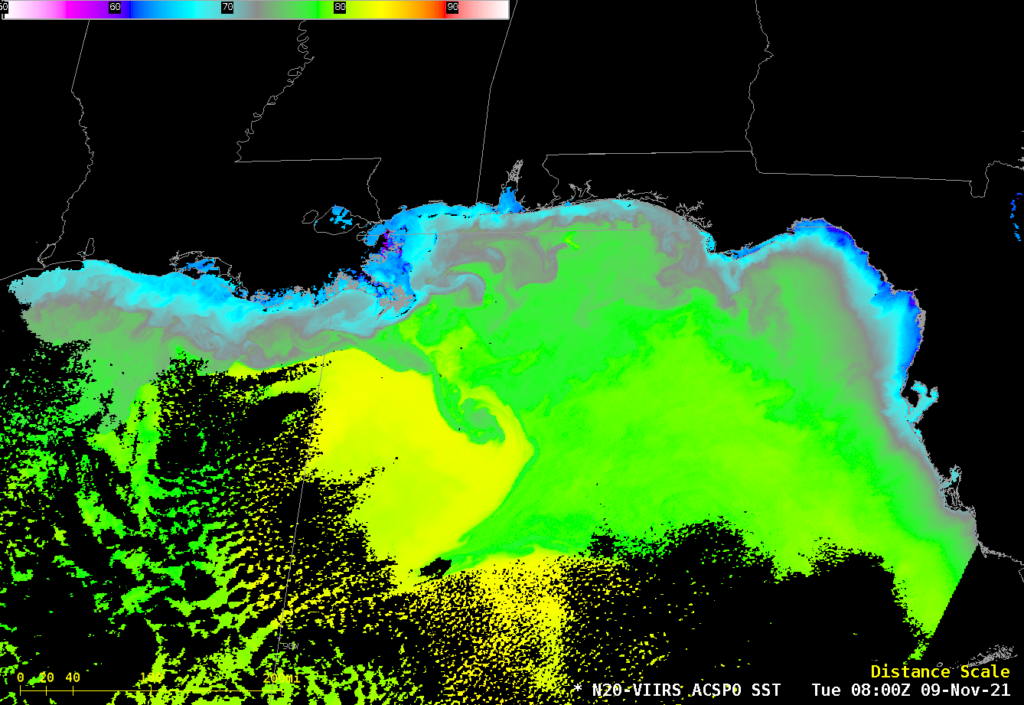 The Advanced Clear Sky Processor for Ocean algorithm is part of the Community Software Processing Package (CSPP), CIMSS-maintained software that can be applied to Direct Broadcast data, such as those data from NOAA-20 and Suomi-NPP (and other satellites) downloaded at two antennae at CIMSS. CSPP will create AWIPS-ready tiles so that SST information can be viewed within AWIPS (as shown above and below) and the AWIPS-ready tiles are available via LDM feed from CIMSS (images — rather large — are also routinely available online: here for the image above, here for the Suomi-NPP-derived image below).
Both SST images show remarkable gradients in sea surface temperature: upper 60s (cyan) to low 80s (yellow) just south of Louisiana in less than 20 miles (above); low 60s (blue) to 80 (chartreuse) to the east of the Outer Banks, also in less than 20 miles (below). The warmest water in the Gulf of Mexico is around 83º F, and shelf water is in the mid-60s. Warmest Gulf Stream waters are around 81º F. Magenta values correspond to temperatures in the 50s.