Thursday, July 31 - UW-Madison Pyle Center - 702 Langdon
8:00 Continental Breakfast and Registration
8:30 SATELLITE EDUCATORS ASSOCIATION (SEA) WELCOME – Mark McKay, SEA President
8:45 SATELLITE IMAGERY & WEATHER PHENOMENA ON A 3D GLOBE – Rick Kohrs, SSEC
9:15 SATELLITE METEOROLOGY 101 – Scott Lindstrom, SSEC
9:45 CIMSS iPAD LIBRARY & THE GOES-R EDUCATION PROVING GROUND – Margaret Mooney, CIMSS
10:00 Break
10:20 SATCAM & WXSAT APPS – Dave Parker, SSEC
10:40 WEATHER & CLIMATE APPLETS – Tom Whittaker, CIMSS
11:00 CLIMATE DIGEST (AND MORE) FROM EARTHNOW – Patrick Rowley, CIMSS
11:15 NASA EARTH OBSERVING MISSIONS – Laura Tenenbaum, NASA/JPL
12:00 Lunch
1:00 CIMSS SATELLITE BLOG – Scott Bachmeier & Scott Lindstrom, CIMSS/SSEC
1:15 SSEC WMS-REALEARTH – Russ Dengel & Dave Parker, SSEC
1:30 NOAA VIEW – Dan Pisut, NOAA/EVL
2:00 NASA WORLDVIEW – Jeff Schmaltz, NASA/Goddard
2:30 Break
3:00 GOES-R – Tim Schmit, NOAA/NESDIS/STAR
3:30 SUOMI NPP & VIIRS DATA – Kathy Strabala, CIMSS
4:00 Keynote: BUILDING A WEATHER-READYNATION: TAKING FORECASTS AND SATELLITE DATA TO THE NEXT LEVEL – Dr. Louis Uccellini, NOAA/NWS Director (intro by Steve Ackerman, CIMSS Director)
EVENING – University Club, 803 State Street
5:15 POSTER SESSION SOCIAL HOUR (cash bar)
6:30 Dinner
7:20 CIMSS/SSECWELCOME – Steve Ackerman, CIMSS Director
7:30 Keynote: A SUOMI STORY: THE GADGET GUY – Hank Revercomb, SSEC Director

Friday, August 1 – AOSS Building – 1225 W. Dayton
8:00 Continental Breakfast, 853 AOSS
Concurrent Sessions
823 AOSS
8:30 GOES-R ABI Lesson Plans– Brian Witthun & Craig Phillips (Wisconsin GOES-R Educators)
9:00 GOES-R STEM CONNECTIONS Peter Dorofy & Vicky Gorman (New Jersy GOES-R Educators)
9:30 GOES-R GLM Lesson Plans –Charlotte Besse & Amy Monahan (Florida GOES-R Educators)
811 AOSS
8:30 MORE LESSONS FROM THE SKY LESSON PLAN ARCHIVE – Pete Arvedson, SEA Author
9:00 THE YOUNG METEOROLOGIST PROGRAM (YMP) – Ron Gird, NOAA/NWS
9:30 EARTH SYSTEM: DEVELOPING A GEOSCIENCE & REMOTE SENSING LAB – John Moore, Institute for Earth Observations Director
10:00 Break
10:20 SHARE-A-THON AND DISCUSSION
11:20 M.Y. S.P.A.C.E. STUDENT RESEARCH REPORT 1411 AOSS
12:00 Lunch on the roof!
1:00 SCIENCE ON A SPHERE (SOS) at the Aldo Leopold Nature Center (transportation provided)
4:00 OPTIONAL EDUCATORS DEBRIEF at a downtown brew pub tbd
TEACHER WORKSHOP - Thursday July 31st & Friday August 1st
At the heart of this conference is two days of professional development for middle and high school science teachers and Science on a Sphere (SOS) docents. This workshop will start at the Pyle Center Thursday morning and move to the Atmospheric, Oceanic and Space Sciences Building on Friday, with separate sessions for teachers and SOS docents Friday morning. Friday afternoon everyone will take a field trip to a near-by SOS at the Aldo Leopold Nature Center.

By attending both days, educators can earn 1 graduate level credit from the UW-Madison Department of Atmospheric and Oceanic Sciences (640-508-001) and also receive $200 tuition reimbursement after the workshop. (Tuition bills will arrive well before reimbursements however.)
Madison is renown as the birthplace of satellite meteorology, if you're interested in this topic, this is the place to be this summer! Thursday afternoon and evening the event will expand to include UW researchers, students and professional meteorologists with a keynote presentation by the Director of the National Weather Service. 
SATELLITE SYMPOSIUM - Thursday afternoon & evening (agenda)
A satellite symposium featuring cutting-edge tools and topics will take place at the UW Pyle Center Thursday afternoon with keynote speaker Dr. Louis Uccellini, Director, NOAA's National Weather Service, including a poster reception and celebratory banquet at the University Club with a second keynote presentation by Dr. Hank Revercomb, Director, Space Science and Engineering Center.
Additional meetings of the Satellites and Educators Association (SEA) and the M.Y.S.P.A.C.E community will take place at the Atmospheric Oceanic & Space Science Building starting on Wednesday July 30th.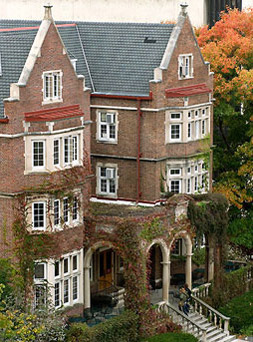 The evening banquet will take place at
the prestigious yet intimate University Club
starting with a cash bar social hour.