22-23 February 1998 -- Central Florida Tornado Outbreak
---
GOES-8 Imager Products:
(Note: the Java and QuickTime animations on this page may not work, due to files being lost...we are trying to recover these files from backup...)
Several deadly tornadoes were produced by strong convection that moved rapidly east-northeastward across central Florida from late in the day on Sunday 22 February into the early morning hours on Monday 23 February 1998. At least 40 fatalities have been attributed to this tornado outbreak.
A large elevated bow echo propagated rapidly eastward across the Florida panhandle into northeastern Florida during the morning and afternoon hours of 22 February. An outflow boundary from this initial convective system moved slowly southward and stalled across northcentral portions of the state. Later that afternoon an intense squall line moved from the eastern Gulf of Mexico into the central Florida peninsula. At the same time a surface warm front was advancing northward across this same region, followed by strong south-southeasterly flow at the surface. Westerly winds increased within the middle and upper troposphere as a jet streak approached from the Gulf of Mexico.
The combination of rapid destabilization due to strong daytime heating, a favorable veering low and mid-level wind profile, and the intersecting outflow boundary/warm front/squall line led to the development of intense rotating convection that spawned multiple tornadoes later that evening.
Java animations of GOES-8 10.7 micron IR and GOES-8 6.7 micron IR (water vapor) show 15-minute images (magnified with county outlines) during the tornado outbreak. The Storm Prediction Center preliminary tornado reports listed 5 tornado event locations in central Florida after 00:00 UTC:
---
GOES-8 Sounder Products:
The GOES-8 sounder Lifted Index (LI) derived product images (above) show the very unstable atmosphere that developed with strong daytime heating across the Florida peninsula. LI values as low as -8 C were evident both before (above left) and during (above right) the tornadic outbreak. The 00:00 UTC Tampa FL rawinsonde profile yielded a LI of -4 C, and also revealed dry air aloft and a veering low to mid-level wind profile that was favorable for supercell convection.
GOES-8 sounder Precipitable Water (PW) derived product images (below) reveal ample moisture (> 30 mm) in the atmospheric column during the period, both ahead of and behind the advancing squall line.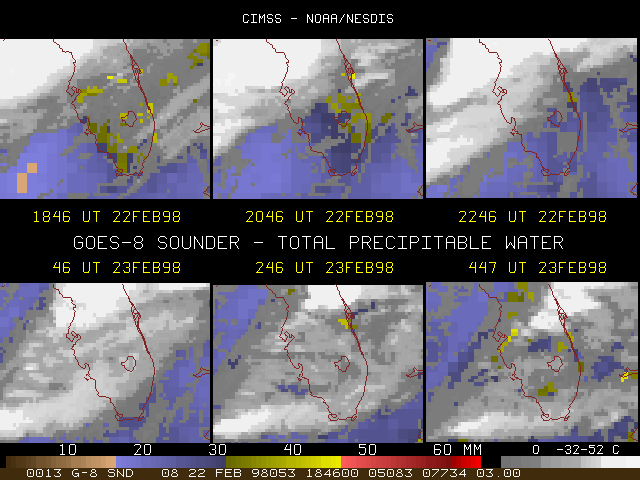 GOES-8 sounder Precipitable Water

See the CIMSS Realtime GOES Sounder Products page for current products and information.
---
Additional GOES Satellite and WSR-88D Radar Products:
---
Address any questions or comments to Scott.Bachmeier@ssec.wisc.edu or Gary.S.Wade@noaa.gov