About this course
Satellite Applications for Geoscience Education is a distance-learning course for G6-12 educators that seeks to leverage satellite observations with teachers connection to students to raise society's understanding of Earth's dynamic air and water systems.
Much of the content is static and acessible without the Internet but some activities and nearly all the resources require Internet access.
The development of this course began with a Curriculum Design Summit in November 2006 where science teachers convened with University researchers, experts from the SCALE project ( System-wide Change for All Learners and Educators) and an evaluator to craft a geoscience curriculum specifically designed to meet the needs of high school science teachers.
How to take this course
This is a self paced course divided in 6 Units on Remote Sensing, Geology, Oceanography, Meteorology, Climate, and Earth as a System. Each Unit is comprised of several lessons that are laid out in the same sequence, work through the material in the order that it is presented, visit all links and interact whenever possible.
Lesson Sequence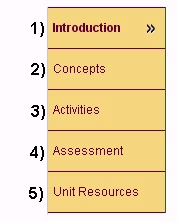 Work sequentially and do all activities and readings.
System Requirements
You will need to have Java enabled in your browser to take this course. For optimal performance, it is recommended that your web browser version be 2007 or later.
Questions?
Please direct questions to Margaret Mooney at the University of Wisconsin-Madison Space Science and Engineering Center.