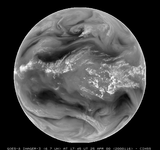 Here are a few definitions (and relevant URLs) for satellite terms that are used frequently in the CIMSS Satellite Blog:
AWIPS: Advanced Weather Information Processing System — the meteorological workstations utilized at National Weather Service (NWS) forecast offices. CIMSS receives most of the AWIPS satellite, radar, observations, and model forecast fields that a conventional NWS forecast office would receive, using the D2D (Display 2-Dimensional) component of AWIPS; CIMSS is also involved in "satellite proving ground" activities where new satellite products (such as MODIS imagery and GOES Sounder products) are made available for display in the AWIPS environment.
.
Brightness temperature: satellite detectors measure a quantity of radiation, known as radiance; this radiance value from the InfraRed (IR) detectors is then converted into an equivalent brightness temperature value. Color enhancements can then be used to highlight certain ranges of brightness temperatures on an IR image.
.
Enhanced-V: an InfraRed (IR) satellite signature that is a good indicator of strong convection that is (or is about to become) severe and produce either damaging winds, large hail, or tornadoes. Examples of enhanced-v signatures can be seen on GOES and MODIS IR imagery during the 07 April 2006 severe weather outbreak in the central US.
.
GOES: Geostationary Operational Environmental Satellite — the present constellation of NOAA geostationary satellites that are used to monitor weather across North and South America as well as the adjacent portions of the western Atlantic and eastern Pacific basins. The current generation of these satellites have a 5-channel imager, along with a 19-channel sounder as part of their instrument payload. The current operational GOES-West satellite is GOES-11, positioned at 135º W longitude; the current operational GOES-East satellite is GOES-12, positioned at 75º W longitude; GOES-10 is positioned at 60º W longitude, and is providing coverage for South American operations. GOES-13 is the latest GOES (and the first of the GOES-N/O/P series) to be launched; the GOES-13 Science Test was performed during December 2006, and that particular satellite has now been placed into on-orbit storage. GOES-O (which would become GOES-14) is currently scheduled for an October 2009 launch date.
.
Imager: the multi-channel instrument on current GOES satellites that is the source of the most commonly utilized satellite imagery. The current generation imager (used on GOES-8 through GOES-15) has 5 channels (1 visible; 4 IR); the next generation imager (the Advanced Baseline Imager or ABI) which will be included on GOES-R (planned for a launch no earlier than late 2015) will have 16 channels.

.
MODIS: MODerate resolution Imaging Spectroradiometer — a 36-channel instrument on the NASA polar-orbiting Terra and Aqua satellites. CIMSS has a MODIS direct broadcast ground station, which also provides imagery for the SSEC MODIS Today site. Some of the MODIS channels and products are also prepared for display in AWIPS.
.
NOAA AVHRR: The National Oceanic and Atmospheric Administration (NOAA) series of polar orbiting satellites have an Advanced Very High Resolution Radiometer (AVHRR) instrument with 5 channels (similar to the 5 channels which are available on the GOES imager). There are plans to try and add 3 of the 5 AVHRR channels (visible, 3.7 µm shortwave IR, and 10.8 µm IR window) to AWIPS in the near future.
.
Sounder: a 19-channel instrument on the GOES series of satellites. Compared to the 5-channel imager instrument, the sounder scans more slowly (one image per hour), and has a larger nominal Field Of View (FOV) of 10 km at nadir. GOES Sounder channel data are used to create operational derived product images (DPI) such as total precipitable water (PW), lifted index (LI), CAPE, cloud top pressure, skin temperature, and total column ozone.
.
Suomi NPP: The Suomi National Polar-orbiting Partnership (S-NPP) satellite was launched in October 2011, and contained instruments (such as VIIRS) that will be available on the next-generation of polar-orbiting satellite JPSS (scheduled for launch in 2017). The satellite was named in honor of University of Wisconsin – Madison professor Verner Suomi, who is widely regarded as "the father of satellite meteorology".
.
True color image: a 3-channel "RGB composite" that uses MODIS channels 1 (0.65 µm), 4 (0.55 µm), and 3 (0.47 µm) for the Red, Blue, and Green components of the image. The resulting image is then corrected for reflectance, which accounts for molecular scattering and for absorption by ozone, oxygen, and water vapor. Daily MODIS true color images are made available in near-real time on the SSEC MODIS Direct Broadcast and SSEC MODIS Today sites.
.
VIIRS: the Visible Infrared Imagine Radiometer Suite is an instrument on the Suomi NPP satellite, which has 22 spectral bands (including a Day/Night Band, which can provide "visible images at night" using reflected moonlight, airglow, etc). The VIIRS instrument scans a wider swath (3000 km) than the MODIS or AVHRR instruments on other polar-orbiting platforms.
.
Warm trench: an IR signature that consists of a ring or "trench" of warmer cloud top brightness temperatures that surrounds a region of cold cloud top temperatures associated with overshooting tops. The significance of this particular IR storm top signature is still being explored.
.
Water vapor channel: a satellite channel in the 6 to 7  µm wavelength range that is sensitive to radiation that is absorbed and re-emitted by water vapor located in the middle to upper troposphere. Water vapor images provide valuable information about flow patterns and dynamics in the middle troposphere, even in cloud-free regions.
.
Weighting function: a plot that describes the layer of the atmosphere from which radiation is coming from that is being measured by a particular satellite channel. The plots represent the change in transmittance with respect to pressure (or height). You can interactively explore GOES imager and sounder weighting functions for rawinsonde locations in the US using the CIMSS GOES Realtime Weighting Functions site.