The Lowell Center
Just 1 block east of the Pyle Center and close to State Street, The Lowell Center is the accommodations component of the UW-Extension Service, working in conjunction with the Pyle Center. An expanded continental breakfast is included as well as the use of an indoor pool, sauna, and beautiful new fitness room. The fitness room is equipped with treadmills, a stair climber, elliptical machines, a recumbent bike, and free weights with bench. Hours for the fitness center are 6:30 a.m. - 10 p.m. Ellipticals and treadmills are Nike+ compatible, and many have headphone jacks.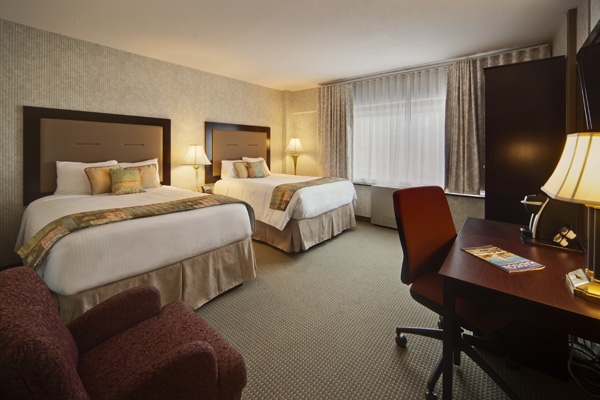 These guestrooms are furnished with either two double beds or with one queen-size bed, and offer a full array of amenities:
In-room Keurig coffee makers
Mini-refrigerators in every room
am/fm clock radios with iPod docking stations
Hair dryers
Bath & Body Works toiletries
Irons and ironing boards
32" flat screen tvs with cable
Telephones
Large work areas with desktop surfaces
High-speed Internet access and complimentary wireless access throughout the building.
There are 30 rooms in this block. Parking fee is $10 and should be requested as soon as possible as spaces are limited. Reservations can be made by phone. Current federal rate is $89/night.
Group Name:
Check-in availability:
Check-out availability:
Booking Deadline:
Hotel Address:

610 Langdon Street or 610 North Francis Street (GPS)
Madison, Wisconsin 53703-1104 USA
608.256.2621 or
866.391.1753 (toll-free)
For more information, contact Maria Vasys.